3 Ways a Canadian Adventure Boosted My Writing
March 30, 2016
Writing
Armed with nothing but a 19-inch backpack each, my co-founder and I arrived in one of the most diverse cities in the world—Toronto.
In June 2015, we'd decided to take the plunge and live a minimalist's life while running a startup. Both of us grew up in the UK. We wanted to experience something different, so we took the journey across the pond to Canada.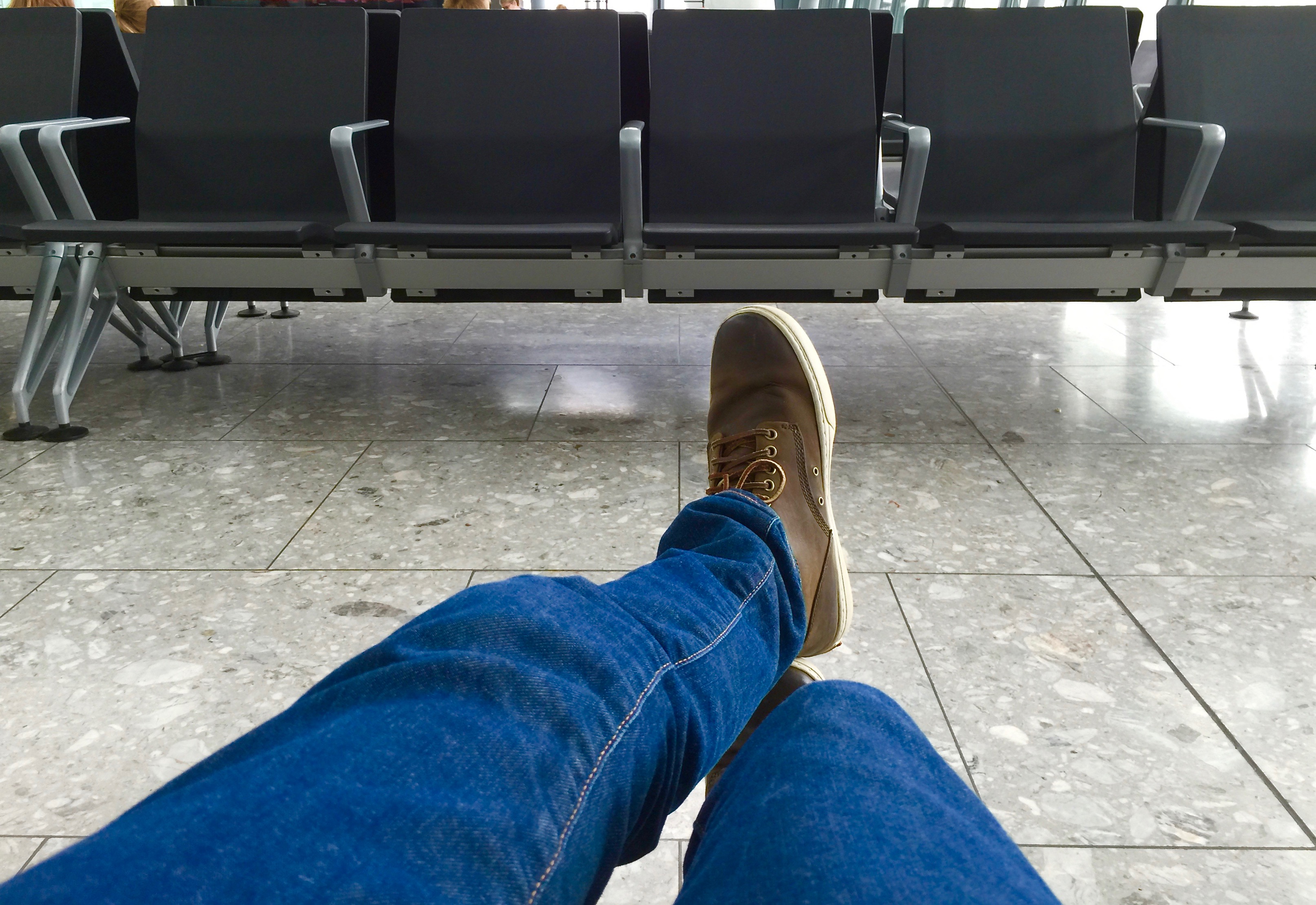 Waiting in Terminal 5 for our journey to start.
When we arrived that sweltering summer, Contentacle wasn't even a concept. We were working on something different, and it was super exciting to arrive in a new city and explore. We'd never been to a different country for so long.
Since we arrived, we've:
Made friends with at least 10 Starbucks Baristas
Met some amazing fellow entrepreneurs
Built a revenue-generating content marketing startup from the ground up with zero funding
Learned a ton about how stressful traveling is
We've been from Toronto to Vancouver and back again. From Toronto to the UK for Christmas and then on to Montréal. Then hopped on a 5-hour train to get back to Toronto. We sure have racked up a ton of miles! 🛩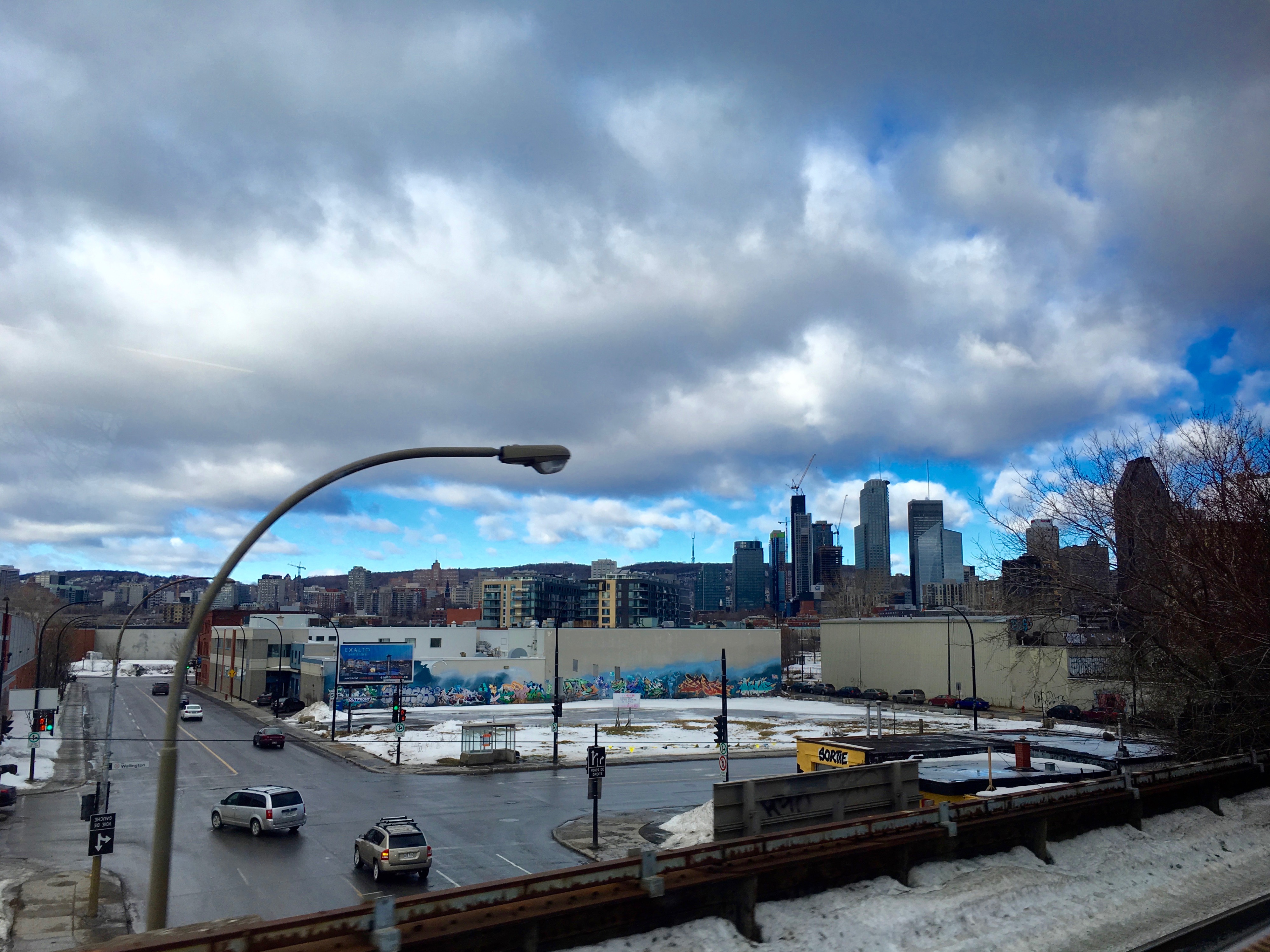 Beginning of the 5-hour train journey to Toronto.
Now our Canadian journey's coming to an end, and we're hopping back on a plane to the UK. So it's the perfect time to write about the three biggest things I've learned since traveling around writing, and how you can use them to improve your writing too.
1. The View and Seating Matters to Me
A content marketer's job is to find inspiration to write about interesting things, and to make those things sound interesting. Then get as much traffic to the post as possible.
The most challenging part? Finding inspiration in the first place.

We've been lucky enough to have some stunning views.
Some argue it doesn't matter where you work, and I tend to agree. Yet I find I work way better in a great environment. A great environment for me means:
An awesome view
A quiet workspace
Plenty of fresh air
A chair that's not made of perspex
Sure, I can get work done in a bad environment, but the quality and amount of work (and ultimately, content) goes downhill.
Being able to travel around Canada has given us some amazing sunrises and sunsets. But most of all, it's given me a zest for writing.
Sure, you can get work done in a bad environment, but the quality and amount of work goes downhill.
Having a degree in Ergonomics, I know how important it is to have a healthy environment. The air quality, the lighting, the seating, and the noise levels all matter.
They affect how productive you are. Ultimately, it'll affect how you'll perform down the line.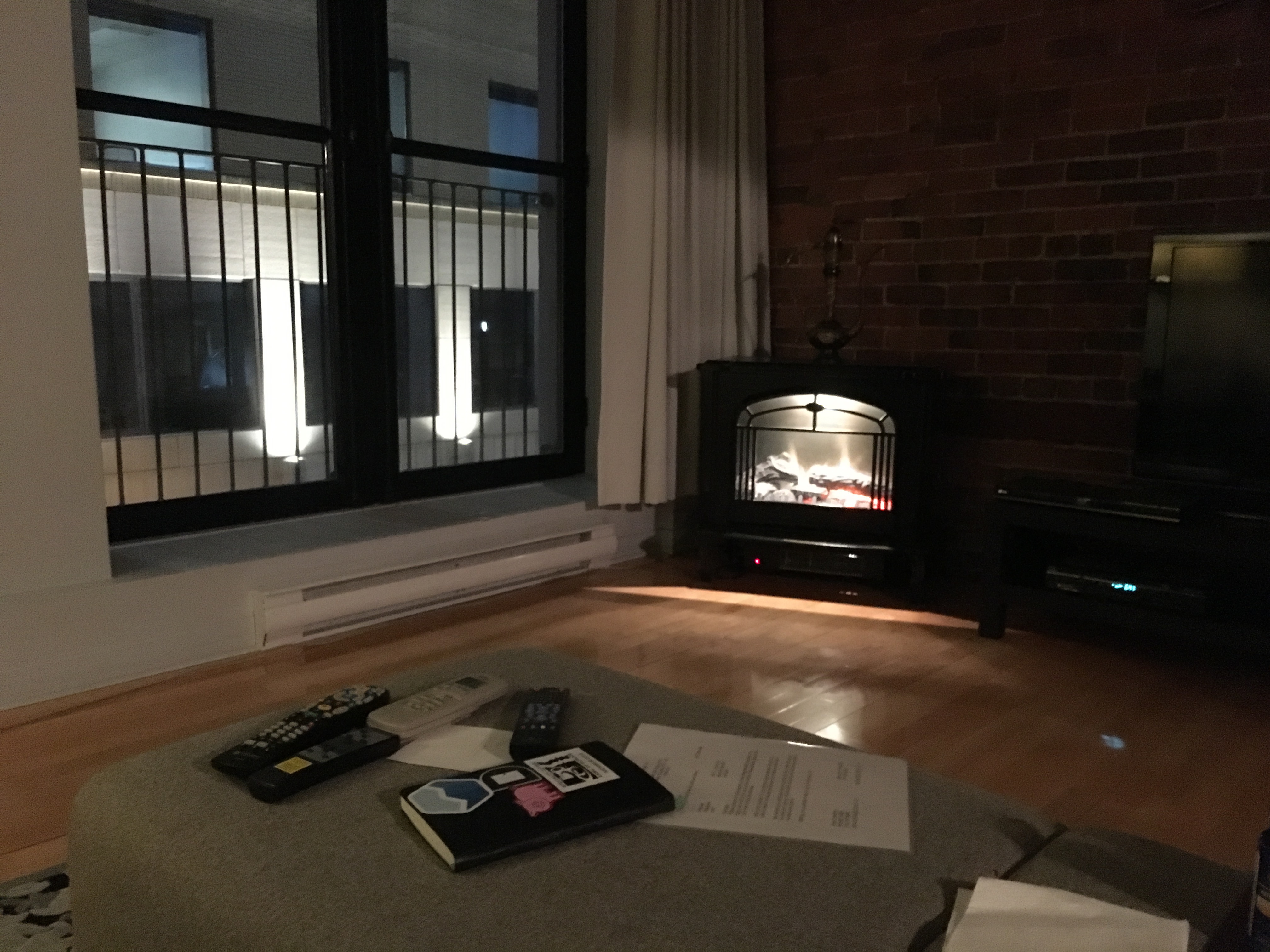 In Montreal, the fire was lovely but the view was of an office block.
Now, I've spent hours sitting in horrible chairs writing. In fact, right now I'm sitting in an awful plastic bouncy chair that seems to have it in for my spine. I feel like I've betrayed all that I learned at school—but I can't go out and buy a different chair. It's not my home, and that's one of the biggest downsides of traveling.
Industrialization brought an increase in sitting to the modern world. And modern technology has given us devices that we hold and view while hunched over. Yet these advancements are ironically devolving our species a bit; part of what makes us human is our ability to walk upright, and yet here we are creeping around where we once stood tall.

Brett and Kate McKay, artofmanliness.com
That being said, it's not all doom and gloom. I found (weirdly enough) benches work well for my posture as I force myself to sit up. I tried standing for a while, and it was great. But when the novelty wore off I ended up slouching back down into my oh-so-effortless seat.
Takeaway: While it's totally possible to work anywhere, it's not always the best for your writing. Take some time to find the place you work best, and your writing (and your readers) will thank you for it.
2. Exercise Helps to Feed My Creativity
Getting a great workout in while you're traveling isn't an easy task, especially when you've only got a backpack. Luckily, Canada's a pretty great place for walking. Over the past year I've racked up an average of over 6,000 steps per day. Not too shabby for someone that sits down most of the day, eh?
I felt most productive in Vancouver where we had a condo gym. It wasn't anything special—just a few cable machines and a bench. But it was great to take a break and get stuck into some exercise. When you're working full time (x2) on a startup, it's great to have something to break up your day.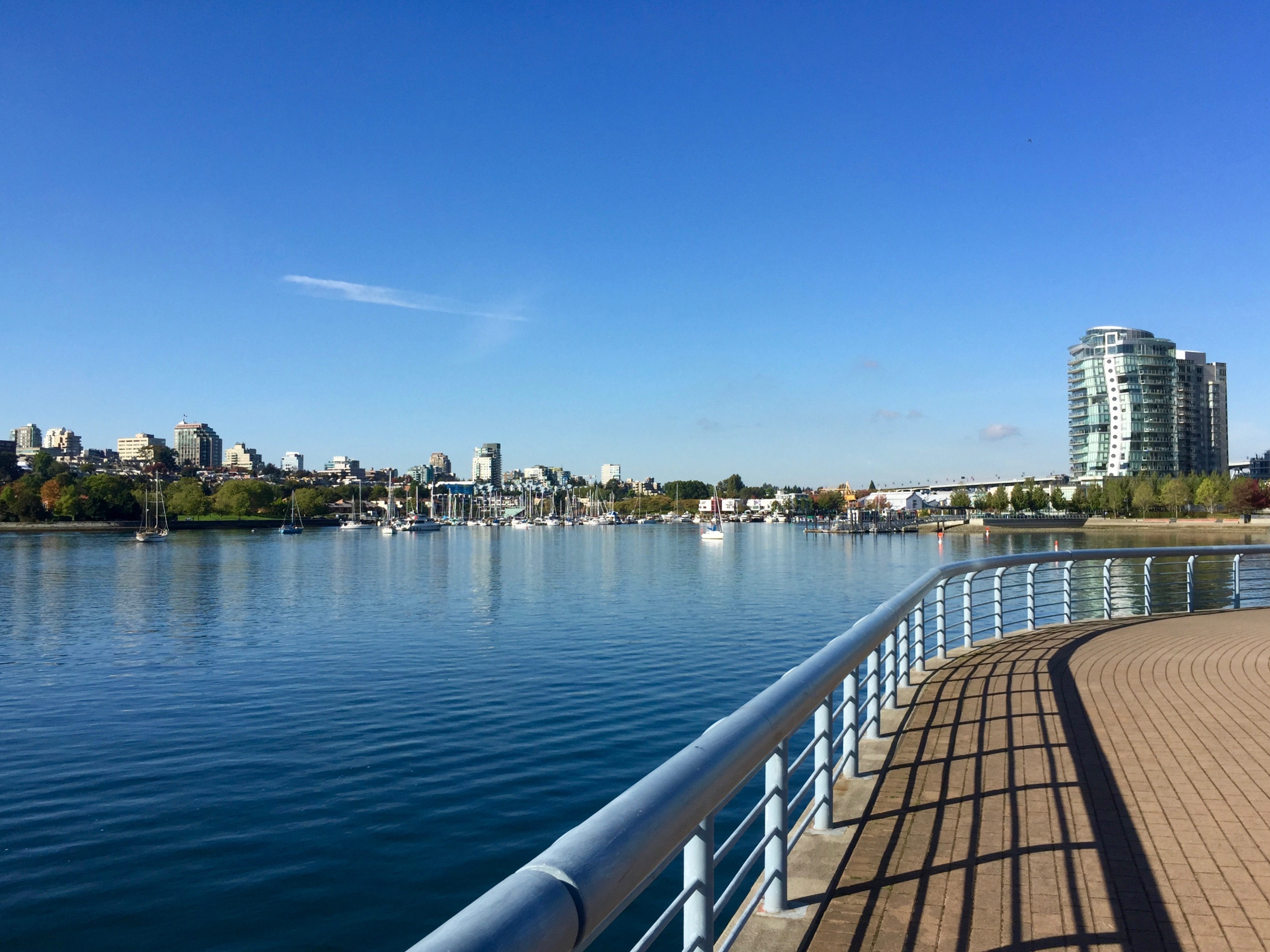 Yaletown in Vancouver was a fantastic place to exercise.
Trouble is, gym clothes take up a ton of space, so when we moved back to Toronto we had to ditch them. Luckily Jake found an app for bodyweight exercises called SworkIt, but it's just not the same. We missed the weights, so we stopped exercising.
Exercising boosted my writing because I felt happier. Don't believe me? There's a ton of science to back me up.
When we get back to the UK, we're building a home gym. While it may seem like a huge and ridiculous expense at the start, I'm sure it will pay off not only for productivity, but feeling good too.
Takeaway: Exercise is a proven way to boost your productivity and creativity, but the best kinda exercise is the one that fits into your life. You're a special little flower (at least that's what my teachers used to tell me), so you need to find what works for you. 🌻
3. Traveling Has Helped Me Grow as a Founder
Being inspired has helped me take my writing from awful to better than average. With Jake's help, I've published 19 articles to our blog so far. I can't say I'm proud of all of them anymore, but I've improved and learned to deal with the fact my articles won't ever be perfect.
When you're living month-to-month trying to find the next place to stay, it takes a lot of effort to keep on track. Preparing the next apartment takes at least 2 days out of every month, which for any startup is a long time. It's super stressful!
Despite how much time it takes away from the business, traveling has helped both of us grow as founders. It's helped me as a content crafter and as a person. I've experienced so many things I wouldn't have done otherwise and I think I'm a better startup COO than I ever would've been otherwise.
Travel's definitely not for everyone though, and it's not really the whole story. The biggest part is doing something out of the ordinary for you, just to broaden your mind.
Try working from somewhere new, just for the day. Take a trip to the beach, or the mountains. Heck, even just go grab coffee with someone you haven't seen in a while. Anything, so long as it's a little something different.
Takeaway: Travel gives you a ton of perspective on the world, your life and your work. But you don't need to jet off to see the benefits. The key's just breaking your routine.
Final Thoughts
Slow traveling has been the best thing I've ever done, and I'm sure my co-founder Jake would agree. It's improved my skills and helped me see how diverse and interesting the world is.
Every startup has tough times, but looking at a lovely view and having a nice cup of coffee makes it all seem worth it. If you're thinking about starting your own journey, you should go for it and see what happens.
We may be traveling back to the UK, but I'll always think of Canada as a second home. It's been great to us, and you should totally visit too (but maybe in the summer, it get's mighty chilly ⛄️).