Using Automation & Bots to Power Your Remote Team
Each year, more and more companies are ditching the traditional office and becoming remote. Teams are becoming distributed around the country—sometimes even around the world. 🌎
Help Scout, InVision, and Groove are just a few startups whose teams are scattered all over. It makes sense, particularly for tech companies who run online. Costs are lower and the whole team gets a better work/life balance.
In my opinion, transparency is the most important cornerstone of remote culture. By giving everyone access to the same information and designing processes accordingly, you eliminate the most common cause of remote team failure.

Nick Francis, Help Scout
As Dan Radigan from Atlassian explains, there are major benefits to building a distributed workforce. "Distributed teams can work on projects around the clock" Dan says. "And strong talent can be found in less competitive markets".

Being able to hire great talent is one of the reasons we hire remotely. It makes sense not to force people to move to your location. Some people, y'know, like where live already.
Here's the lowdown on the benefits and drawbacks of setting up a distributed team.
Benefits of Working Remotely
Remote working sure has its benefits. There are certain things you don't even have to think about. It can cut your budget in half, which for any company is fantastic news.
Here's some things you can totally avoid by working remotely:
Renting office space. Making space in the company budget for office rent used to seem like a sane thing to do. Things have moved on, though. Sure, renting an office does have its perks (room for a foosball table, anyone?) but if you're only small it's a huge money-suck.
Moving employees to a specific location. This ties in with the office rent. If you're not going to allow remote work, you'll have to move potential employees over to you. This means you don't get access to top talent—unless they're located nearby. If you're not in a tech hub, you're gonna struggle.
Downsides of Working Remotely
Like any workplace setup, there are downsides to working remotely. There's certain things that're tricky when you're not sat next to one another.
When you've got a distributed team, you have to contend with:
Timezones. Ugh, timezones suck—but there's no way to get around 'em. It's best to check where your teammates are and see when's best to chat to them. A tool like Timezone.io could help you out if you can't tell your CEST from your MT.
Building relationships online (at least to start with). Nurturing relationships face-to-face is difficult enough. But when faced with a quick Skype chat to get to know each other it's extremely difficult. When you're working around the globe, you'll need to try extra hard to make team dynamics work.
Keeping a record of work completed. There's a ton of tools to help you out with tracking tasks. But it's still a pain and you wanna make your team feel trusted—not like their every move is tracked.
Face-to-face interactions are important for any team. This is especially true when it comes to building software, relationships, and writing content.
Just because everyone primarily works remotely doesn't mean you shouldn't make the effort to get together and enjoy each other's company regularly.

Mary Ellen Slayter, SmartBlogs
That's why many remote-oriented companies have adopted annual retreats for everyone to hang together.
Takeaway: Remote working may be all the range at the moment, but like any work setup it has downsides. Be sure to consider all your options before going all-in.
Use Tools to Help You Out
There's some awesome tools to make remote work so much easier for everyone.
No more sending 10 emails to get one thing done. Phew!
Tools like Sqwiggle and Slack can keep you connected and communicating every day without too much effort on your part.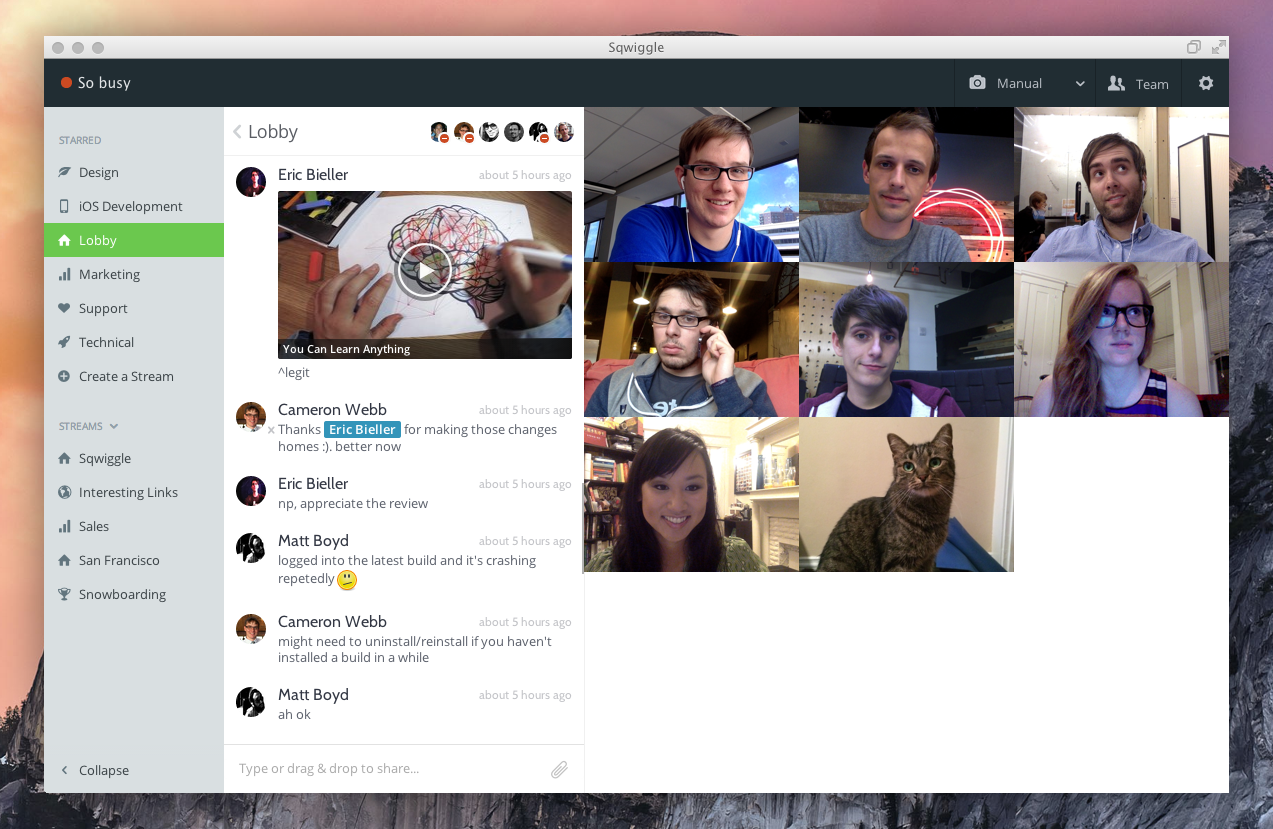 Tools like Sqwiggle help your team (and pet) stay connected, whereever you are. 🐱
Software like Quip and Contentacle make it easier to collaborate on content and get employees involved.
WorkingOn, iDoneThis, and Status Hero are all tools that can help you manage tasks and keep an eye on progress even when you're on different continents. How awesome is that?!
It's not all about independent platforms, though. Taking advantage of automation tools and bots can help you cut time too. Nowadays, it's all about getting things done for you or with you and in less time.
There are hundreds of apps and services available to help you communicate and collaborate with your team.

Mark Panay, Contactzilla
There's a constant stream of Slack and Facebook Messenger bots coming out at the moment because of the very open APIs. These can help your remote team function better. Especially if you're already active on the platforms. 🙌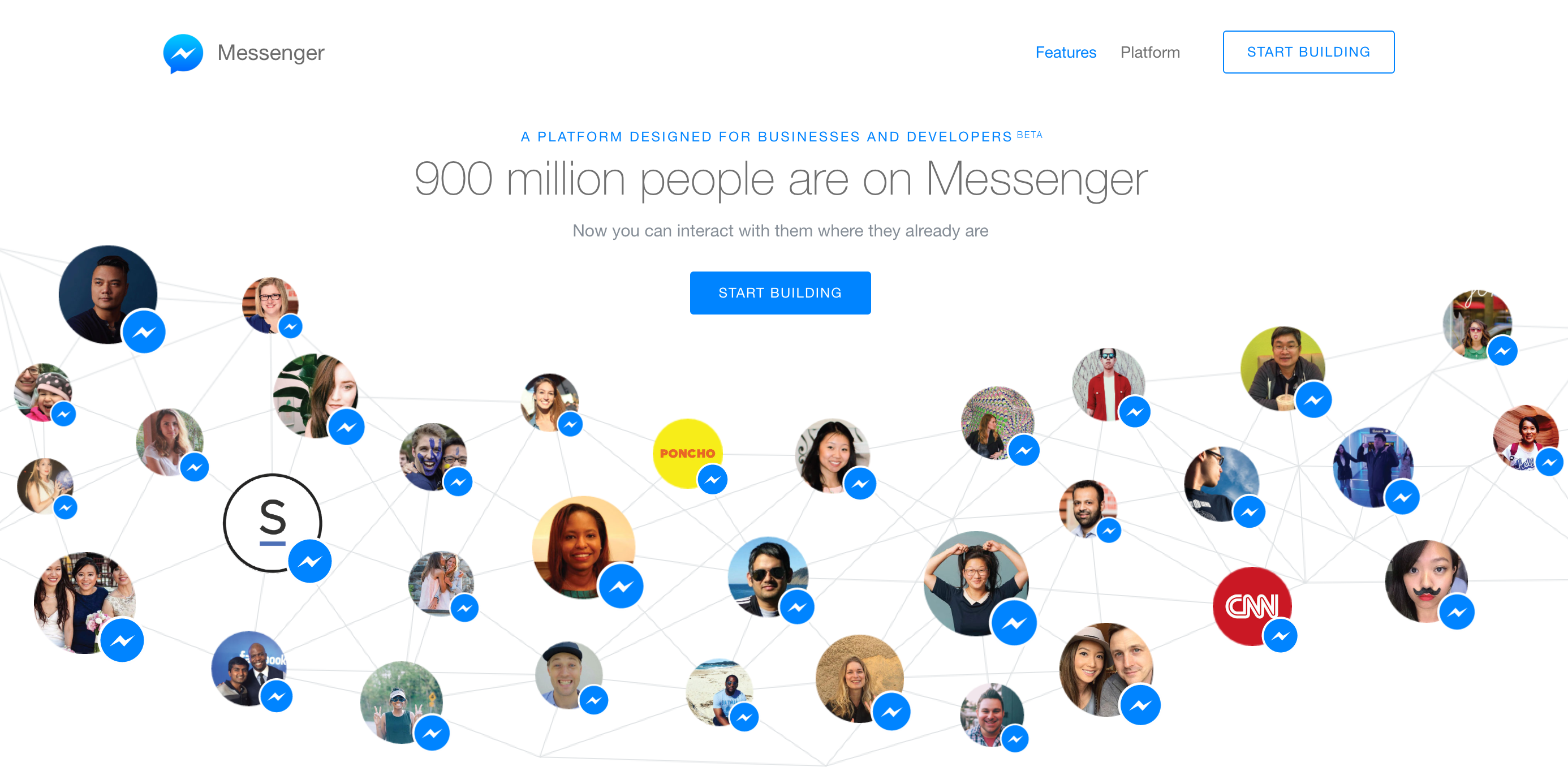 The Facebook Messenger Platform is great for bots.
If you're on the lookout for the newest Slack/Messenger bots, keep an eye out on the Product Hunt Messaging Topic. There's a few released each week.
Looking to step up your automation game? IFTTT and Zapier could be good options. These tools help you streamline your workflow by hooking apps together. Let computers do your bidding while you do something far more important (ping pong, anyone?).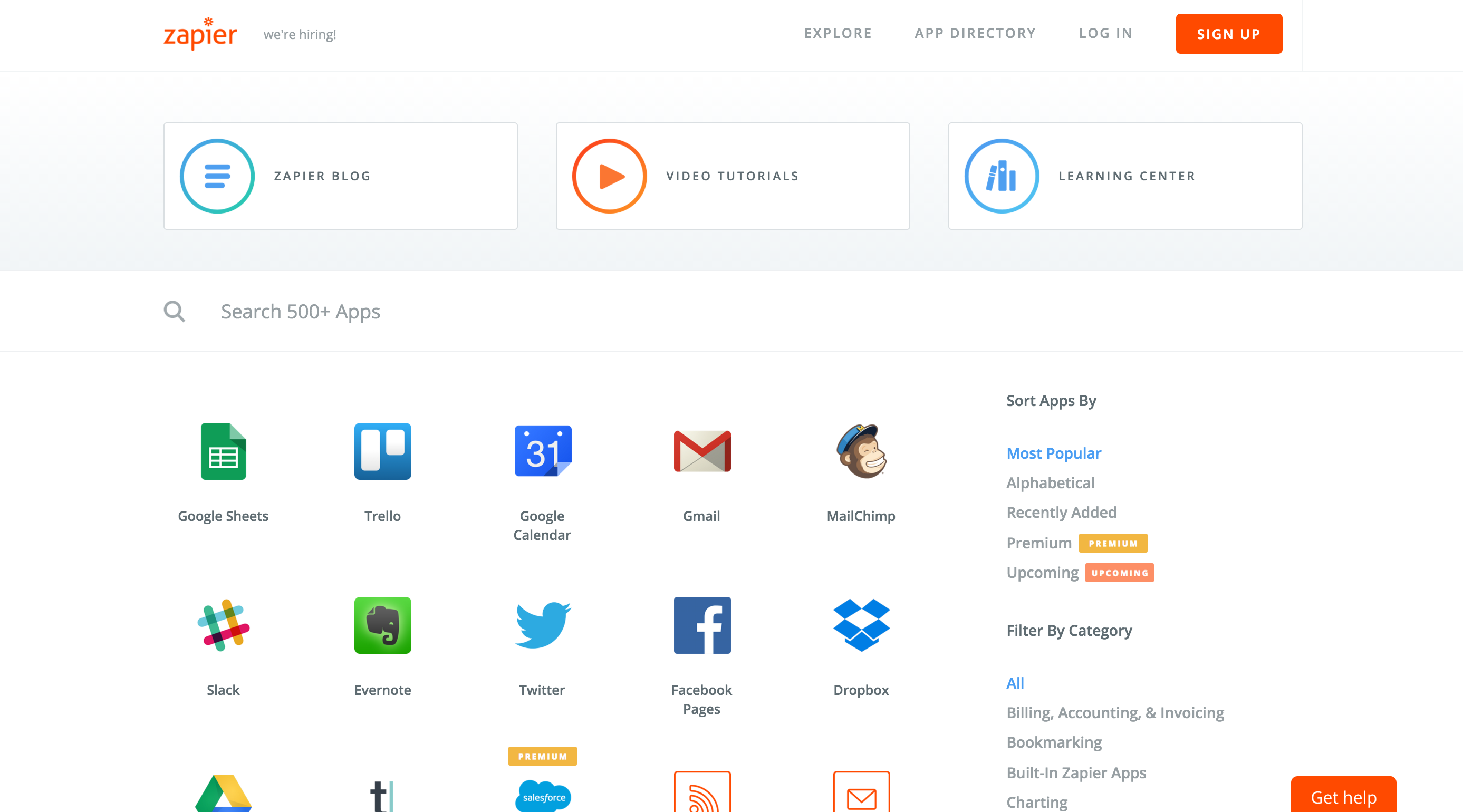 Zapier helps you connect thousands of apps to one another so you don't have to do menial tasks.
Make sure you know what you're looking to set up before you head over to these sites, though. It can be all too easy to get carried away and then forget you ever set them up. You don't wanna to find you've just accidently posted '5 cats with 5 different hats' on your company Twitter account. 🙈
Takeaway: Use a selection of tools and automation bots to your advantage. These can help remote teams stay connected and power through tasks. Be careful to set up ones that actually help, though.
Final Thoughts
Remote teams can work just as well as an office, but you need to work harder to stay connected. That's not easy—there's a fine balance between keeping in touch and keeping tabs on people.
While tools and bots can help you out, in the end it's up to you as a team to make it work.
Only you can decide where your company will end up.