A Month of Hidden Updates: What We Got Up to in March
We work super hard here at Contentacle to make you the best content marketing software ever, but a lot of the time the updates we push just don't get the spotlight they should. We're changing that up this month with a post about things you might not have already seen.
If you saw last month's product update post you could be forgiven for thinking it's all glitz and glamour over here at Contentacle.
Sure, we can rip apart the UX one day, add realtime search the next, totally change the post flow at the weekend, and even let you hook up a gazillion Medium accounts at a time.
But what about all the awesome things we don't tell you about? This month, we spent even more time working on the app, rearranging, recoding, redesigning, but if you check out the app, you'll probably think we've been slacking (not Slacking, that was last month again).
This month's changes are still awesome, but they're more subtle. We've made team collaboration even easier, added a new way to analyze your posts, and let you upload images super fast.
@mentions in Comments
The only thing better than totally awesome post comments is totally awesome post comments with @mentions, right? Now instead of having to turn on email updates for every comment, you can just be notified when someone mentions you.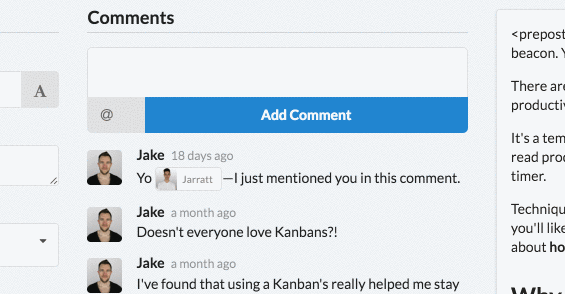 The UI's super simple—just click the @ dropdown and choose a teammate. We'll add in a token that'll switch into their name when you click send. Simple as that!
SEO Audit
This is kinda huge.
Before, all we gave you was rudimentary word counts, split out into all words and your chosen keywords. Plus we'd show you what we thought the post was about, which was kinda neat.
Sure, it worked. It may even have been OK. But it wasn't great.
Now, we have an entire section for auditing your post. It's called the SEO Audit, and you can get to it from the Tools dropdown in the text editor.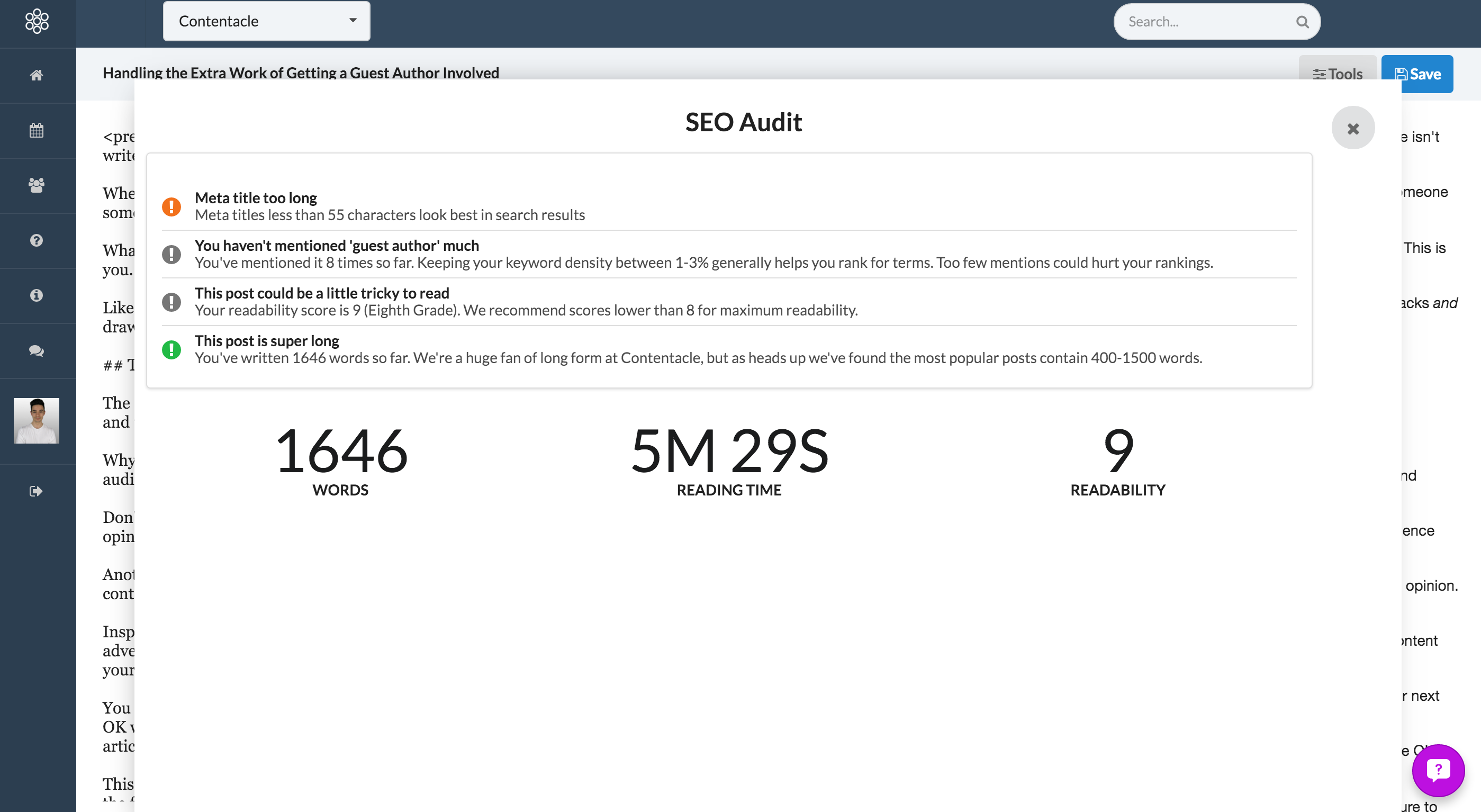 In the SEO Audit, you can see metrics for:
Total word count
Word frequency and density

Top 50 keywords
Chosen SEO keywords

Extracted keywords
Reading time(s)
Readability

US school grade
Readability score
Age range
We've also added some really quick checks and suggestions that'll help you with:
Targeting keywords enough (but not too much)
Adding keyword-containing alt tags to your images
Keeping you post and it's title and description the right length
Adding keywords to your post title and description
Writing a post that's super readable
Add all this together and you have all the tools you need to give your post the best chance of SEO success.
Image Sideloading
When we launched Contentacle 2.0 on Product Hunt recently we had a huge influx of signups.
If you haven't tried it, our onboarding's literally a 30 second process, so soon we had hundreds of people simultaneously trying out the platform.
The #1 thing people told us that day was that they'd been searching for a product just like Contentacle.
The second most common thing? Our image uploads sucked. 😭
Problem was, at the time we could only deal with image uploads to Wordpress and Ghost. That meant users that were trying out the platform for the very first time just got errors when they dropped images. And nobody likes errors.
We've made everything a million times easier by letting everyone upload images right away. But that obviously means the images now live on our servers. Which is great and all, but we don't want to ever have an outage that affects your blog.
So we worked tirelessly to bring you something we call image sideloading.
Basically, when you upload images initially, they go over to our servers.
Then when you hit Publish, we first copy all the images over to your blog. As if you'd just uploaded them in the editor. We get the image URLs, swap them into your blog post, and send over the post as usual.
The best part? Nothing at all changes for you. Drag and drop in as many images as you want, and when you hit publish we'll do all the heavy lifting in the background.
The Rest
There's always some updates that are still brilliant, but not noteworthy enough to get a whole paragraph to themselves. This month, that's:
Word count boundaries
View permissioning
Longer login sessions
Allow ideas to be scheduled
See where posts have been published before
Posts published to Wordpress no longer incorrectly saved as HTML