How We Gained 100,000 Twitter Impressions After 2 Months
Twitter is a buzz of activity. From Ellen's famous selfie on the red carpet to Obama's second term victory, Twitter has seen a lot of memorable moments.
If only Bradley's arm was longer. Best photo ever. #oscars pic.twitter.com/C9U5NOtGap

— Ellen DeGeneres (@TheEllenShow) March 3, 2014
The social media platform has been invaluable in helping us spread the word about our articles. It also helps us interact with complete strangers. It's the way to go for fledgling startups because it takes less time to get in front of an audience of thousands.
That's the reason I decided to focus on Twitter and ditch Facebook (for now).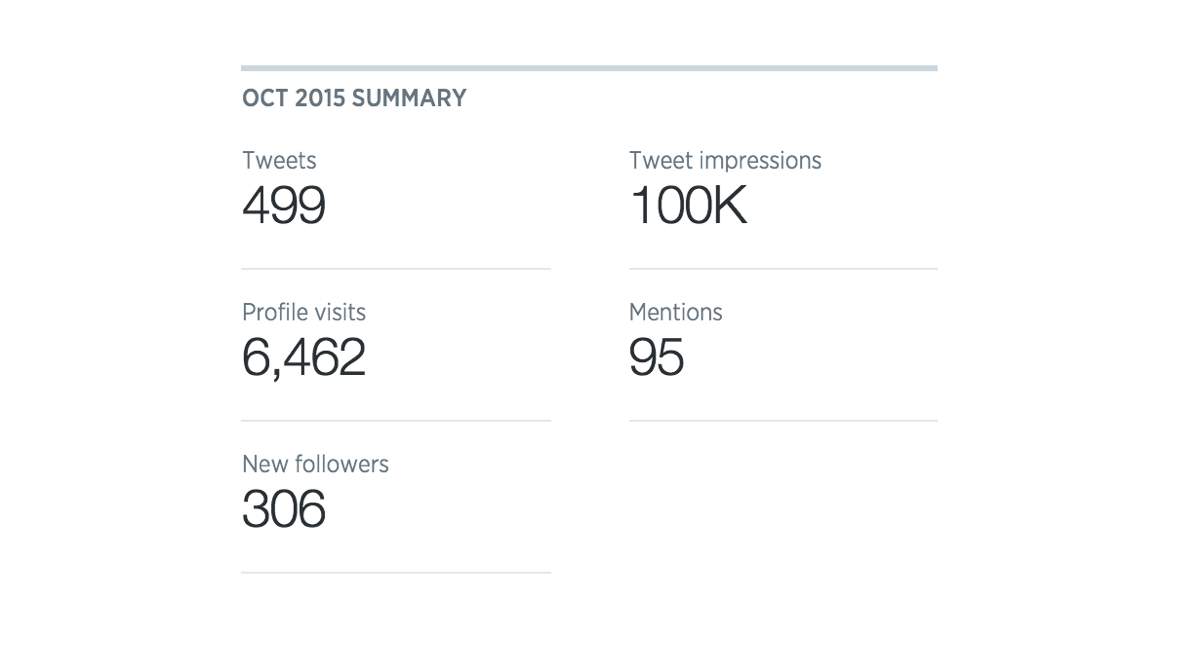 In October we managed 100k Twitter impressions after just two months. I'd like to help you do the same. Here are some of the processes and methods we use.
Not getting paranoid about follower count
Far too many startups focus on follower count, and it's a big mistake. Stop worrying.
While it has an impact on whether someone follows you back, if you're an awesome company with good values you'll soon get more.

I've found the more followers you have, the more you'll gain over time.
Starting at 0, it's difficult to get to 100. To get there you'll need to be highly active and interact with brands and people before they'll follow you back.
Once you have 1,000 it's pretty easy to get to 3,000.
Don't be disheartened if you too have a dip in follower count, because these accounts are usually only around to gain followers, and then heartlessly unfollow them for no reason at all.
Using Twitter lists to your advantage
Quite frankly the Twitter timeline is useless. You don't ever see tweets that are interesting or relevant, and the only accounts that pop up are the spammy ones with disturbing photos.

Wait, this isn't about books at all. I feel tricked.
If you're a poor soul who hasn't found Twitter lists, the shining beacons of organization, I say go now and don't ever look back.
Lists are your savior, and although they're tricky to navigate to, you should use them. They'll save you a ton of time that you would've spend scrolling.
If you don't know how to create a list, here's a useful article.
I always create a private 'People to engage with' list at the start. Again, make sure you tick private. It's embarrassing otherwise.
I add people or brands to this list if I'd like to:
Interact them in the future
Share their content or tweets
Keep tabs on what they're up to
A Twitter list takes time to build it up, but it's so worth it.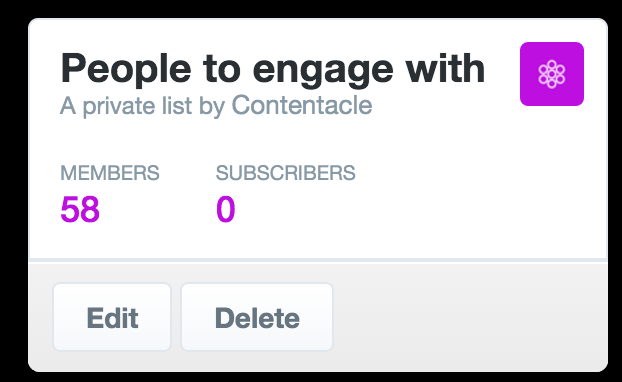 58 awesome, relevant members in one place.
Here's the important part—bookmark it. It's saved me countless clicks, and means I don't even have to look at the horrendous timeline. Then retweet, like and reply this list of people and brands.
Twitter list tools
Here's some extra tools you could use.
Do you even list? DYEL? is a tool that automatically adds people that mention you to a list that is refreshed every week. You don't even have to lift a finger, bro!
Emojis are your friend
It saddens me to admit that I used to think emojis were awful, pointless and silly. I'm sorry fellow emojiarites, I was wrong. They're actually amazing if used sparingly.
Here's our top 10 places to ski in the world this Christmas! 🎅
That's a good use of an emoji. It adds to the sentence because Santa Claus is smiling at you.
Here's our 💥TOP 💥10 places to 🎿 in the 🌍 this 🎄!
Cringe. That's awful. I need to be able to understand it. This isn't Pictionary.
When interacting with potential customers, engaging in conversions or tweeting about content, use emojis at the end of the sentences to spice things up. It makes you more human. 🤖
Share others' content
The majority of startup Twitter accounts only tweet about themselves. They're missing out. It makes them seem selfish and uncaring about their communities.
Sharing others' content helps you not only get the attention of authors, but it helps your followers know learn you're all about.
Here's a top tip when tweeting out others' content—add the author's Twitter handle. Just copy their name and paste it into the Twitter search bar—it'll usually pop up. They when get notified, they might retweet or like the post and that's another person you've influenced.
Everything You Need to Know about Support Documentation and Building an Effective Help Center via @zapier https://t.co/HTDs5GFVES

— Contentacle (@cntntcl) November 9, 2015
If I had shared the article without tagging, the Zapier team would have no idea. But I tagged them and they liked it.
Content Sharing Tools
Don't know where to find content to share? Don't worry, I've got a list. If you use Buffer, check out this article on how to get the most out of a feed.
Feedly: Feedly is a fantastic tool for anyone out there wanting to find content relevant to them. You add your interests and it tells you what to read everyday.

ContentGems: ContentGems is a great site to create content feeds about anything. From healthcare to Formula 1, it delivers.

UpContent: UpContent is made by a lovely team in Pittsburg. It integrates very well with Hootsuite and gives you content based on topics.
Be nice
It's simple, but something many brands get very wrong. If someone takes the time to interact with you, take the time to discover who this person is.
Taking a quick look at someones Twitter profile can help you get a sense of who they are. Have a scroll down their timeline and try to comment on something they've recently shared. It'll surprise them because most people don't take any notice.
@kylePGH It's a very important fact! 😬 (unfortunately there's no hedgehog emoji) - Jarratt

— Contentacle (@cntntcl) November 10, 2015
Add them to your engage with list as well, and be sure to favorite like their future tweets. The more you do this, the more likely they are going to become a valuable part of your community.
Recap
Follower count doesn't matter - It's just a number. Get over your obsession and start focusing on other metrics

Get listing - Twitter lists are very useful in sorting out the timeline mess. Start interacting with people and brands that matter to you

Use emojis 😃 - They say that a picture is worth a thousand words, so use them (sparingly). Don't go all out, you still need to use sentences!

Share content from others - It takes hard work and dedication to run a blog, so why not share their content if you find it interesting?

Be nice - Just treat people as you'd like to be treated. Get to know your followers, and they'll appreciate the effort.