4 Easy Ways to Make Your Sales Season Content More Visual
November 18, 2015
Writing
Black Friday and Cyber Monday, a.k.a "November sales madness" is pretty much the biggest business opportunity of the year for retailers, both on and offline.
That said, there's massive pressure for marketing teams: product contents, external communications, email campaigns. They're are all trying to create those marketing materials that are going to make them stand out from the crowd.

Adding a visual component to your content can help you a great deal achieving the quest for originality.
Why add visual content?
Studies by Wyzowl revealed that people retain 80% of what they see, when only 20% of what they read. Retail sites with video content also increase conversion by 30%. That's quite a difference!
Thanks to today's cool products and services available, creating visual content is doable at a reasonable cost. Here are my top resources for Black Friday graphics.
1. Recommended photos resources
The internet is full of resources available for stock photos that actually look good.
This Medium article (updated regularly) lists all websites where you can find some, in different styles.
Here are my favorite sites for creating finding eye-catching photos.
Stock photos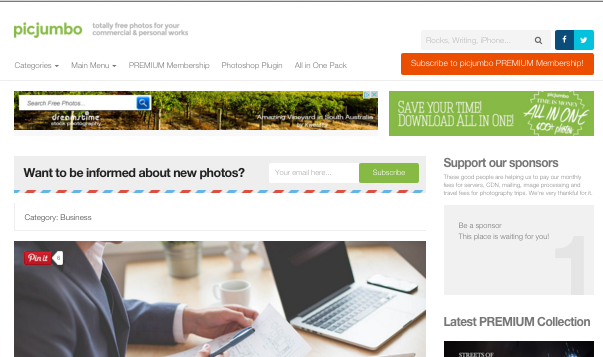 A preview of PicJumbo
If you're willing to pay, I'd recommend Twenty20 because of their 40M+ photos. If you're not so willing to pay, I'd recommend PicJumbo where you can search pictures by keywords. Pretty awesome stuff.
Social media images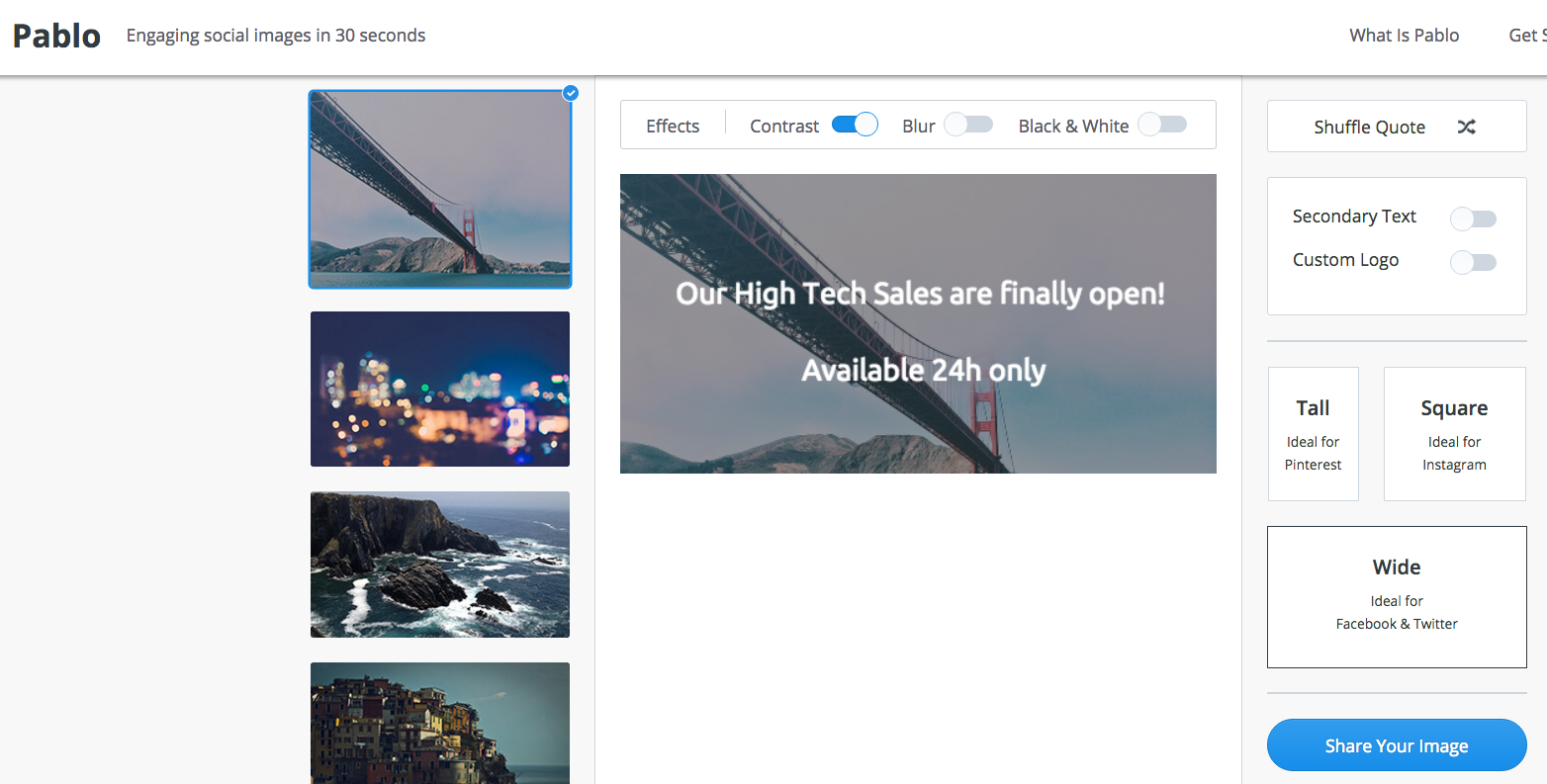 Pablo in action

If you're looking to create social media images, Pablo by Buffer is a fantastic choice. It's a great way to create images with text that fit all social media easily.
Graphics with context
You get a ton of options with Placeit

In case you need to put your graphics in context with a device (phone, computer etc), which can be a good idea if you want to emphasize your mobile traffic or encourage online shopping, use Placeit—a free tool to integrate your visuals into generic pictures easily.
2. Icons, illustrations, and graphics
Graphics will probably be your #1 need in terms of visual content during the Holiday season. Whether it's for email campaigns, product descriptions, cart abandonment strategies, social media special offers, you name it: make those message visuals using illustrations!
Recommended illustrations creators
According to your level of design, you can find online resources that will save you a little to an enormous amount of time in finding and adapting graphics to your brand colors.
The Noun Project

The Noun Project has a great library of icons—think of all those shopping carts and dollars that you can integrate into your emails and product descriptions to remind people about your special holiday sales.
Canva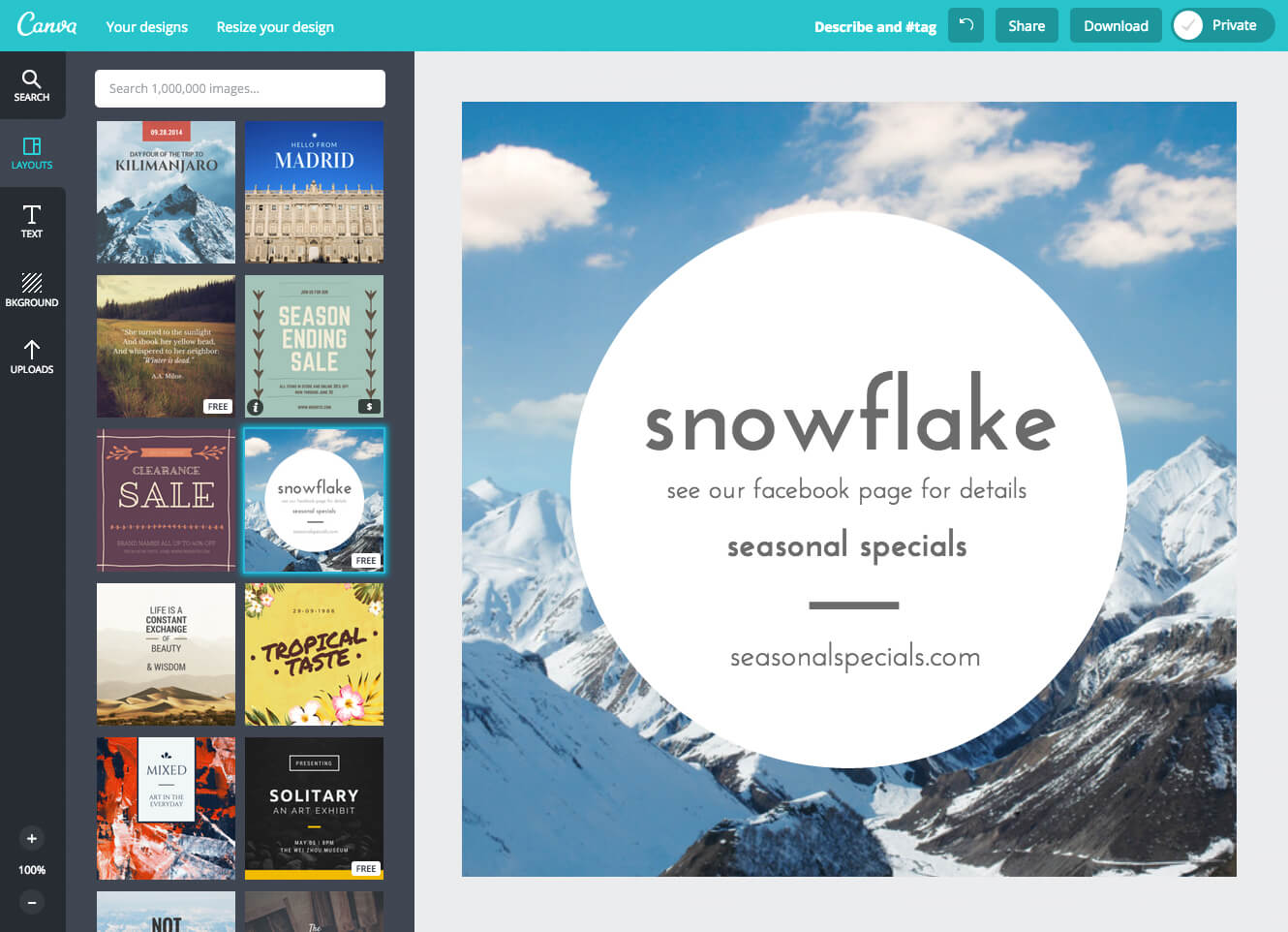 If you can drag and drop, you'll have no problem with using Canva. You get access to get a large variety of graphics, and the online software lets you design complex illustrations very easily.
Canva is very handy to create email headers, background images, or even printed leaflets. There's a catch though—Canva has a freemium model, meaning you can use the basic features for free but need to pay for some of the graphics.
Illustrio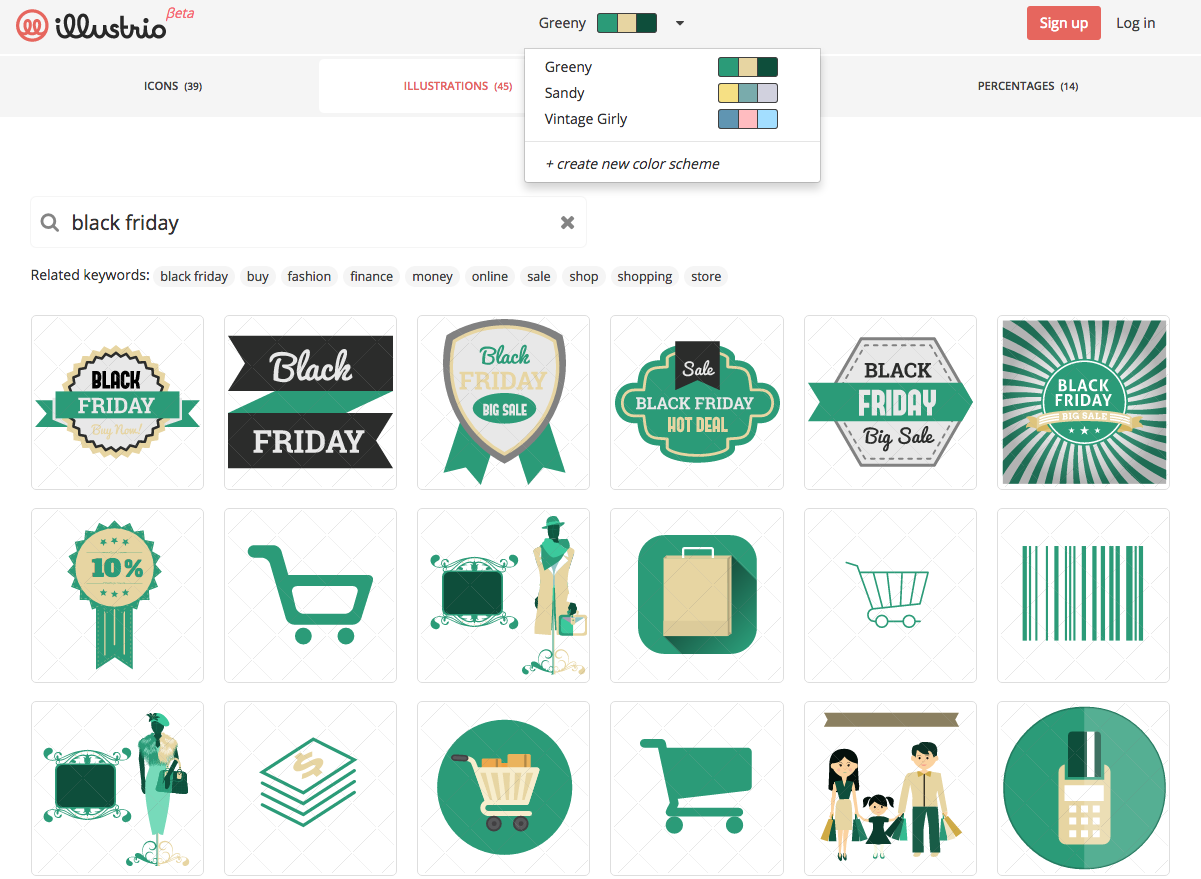 For design beginners who specifically need icons, illustrations and graphs, but still want to customize them without using any design software, we created Illustrio.
Okay, so I may be a little bias, but I think Illustrio is a super handy tool because you can pick a color palette, search our library of icons, illustrations, words or graphs and then apply your brand colors to them. It's super easy.
For the upcoming holiday, we've created a specific gallery of graphics for Black Friday—and it's all free!
3. Videos and animated videos
Considered globally, video as a medium (TV, online ads, prerolls, native content etc) is highly effective in terms of brand awareness and conversion: according to a Forrester research, if a picture is worth a 1,000 words, a video is worth 1.8M.
Cost-wise, online video is highly competitive and can actually be cheaper than other ad formats.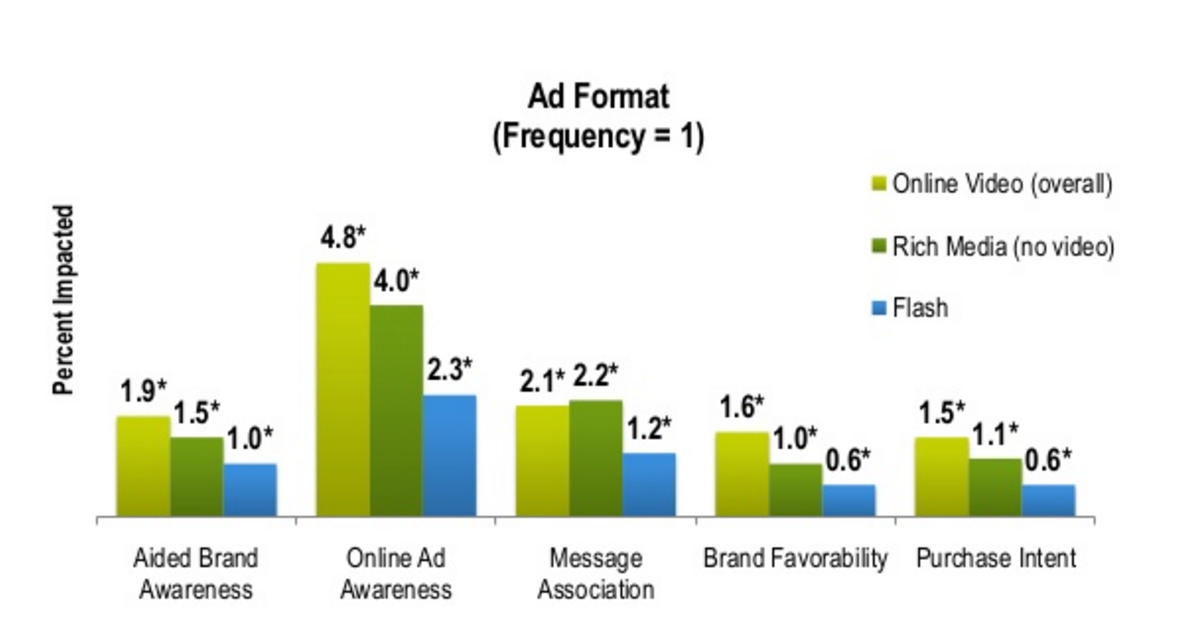 Graph by MillwardBrown[]()
Recommended video creators
For videos, professional computer software dedicated to video editing (like Adobe Premiere or Adobe After Effects) can seem very hard to use for a beginner. You might spend more time figuring out how it works rather than actually making videos.
For animated videos, the paid option that I'd recommend is Visually. The company is actually a sort of online agency that makes videos much more accessible.
If you're on a budget, you can use Powtoon for animated videos. The free plan doesn't allow much, but pricing is a little more reasonable (from $89 to $197 per month).
Another option is to make your video content on social platforms like Vine and Snapchat. The benefit here is that you can interact with your customers directly.
For instance, last year Sephora used Snapchat to announce mysterious deals ahead of time, rewarding its followers and creating a sense of suspense in a smart way.
Add SephoraSnaps on Snapchat for special behind the scenes access and sneak peeks you won't see anywhere else! pic.twitter.com/5Xpl9zzvJR

— Sephora (@Sephora) September 9, 2014
You shouldn't forget social media video platforms. Customers and fans love to interact with their favorite brands.
Last year, Macy's and fashion designer Kate Spade were amongst the first advertisers to jump on Facebook premium video ads.
The result? The fashion brand reaching almost 7M users in less than a month. Pretty impressive stuff!
4. Animated gifs
Although emojis may have challenged animated gifs on the war of being the coolest way to communicate on the web (I personally remain #TeamGifs)—I think gifs are still a pretty awesome way to make your visual content unique.
Gifs can be used on your social media content (see this article for compatibility issues), your own website and especially your emailing campaigns.
Recommended gif creators
The leading, online and free Gif platforms is GifMaker—it's pretty basic and doesn't offer many features. For instance, you can't add text overlay, but it doesn't bug you by showing 10 pop-ups every minute when you're using the platform, which the majority of others do.
If you are a bit more at ease with design tools, Photoshop is the go-to software to create gifs. Here's a YouTube tutorial to walk you through it.
Final thoughts
I hope these resources will come in handy when creating your own holiday content. Don't hesitate to share some examples with me in the comments to inspire your fellow marketers!