5 Simple Platforms to Host Your Stunning Company Blog
Before you can dive into content marketing for your company blog, you need to find a place to host it. But how do you decide what's best for you and your team?
So you've decided to start a company blog—awesome! It's an exciting time, and you just wanna get started, right?
Problem is, you and your team need to decide where and how to publish your content. Ugh. Blog hosting sure is tough. There are loads of places to host a company blog.

What you need is a content management system (CMS). This'll help you publish awesome content without having to touch a line of code. Yay!
You need it to work for you and your teammates too—no messing around. There are so many options, though, that it's a tough decision. Each platform has its own strengths and weaknesses.
Here's a rundown on some options for your company blog, and the benefits and drawbacks of each.
Ready to take a look at a few simple platforms to host your stunning company blog? Then let's go! 🙌
WordPress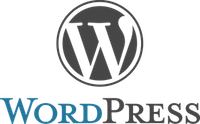 WordPress is like the CMS heavyweight. It's been adopted by millions of bloggers and companies. You'll see Wordpress Blogs all around the web.
Most bloggers have heard of it, and the majority use it to host their blog—whether they're a company or not.
So why do people love the platform so darn much, and what is it that makes it attractive for bloggers and content marketers?
Benefits
Get started in a jiffy. WordPress is so easy to install that it's famous for it. Their 5-minute (https://codex.wordpress.org/Installing_WordPress#Famous_5-Minute_Install) install is super quick and easy, and you can get started right away.
Updated a ton. When you've set up your blog, you'll find that the WordPress team push updates fairly regularly. This means you get fewer bugs, awesome new features and don't have to worry about your version becoming outdated.
Customize away. The WordPress development community is massive, and that is good news for you and your blog. You can choose from thousands of themes and plugins from sites like ThemeForest (http://themeforest.net/category/wordpress) and Creative Market (https://creativemarket.com/themes/wordpress). Yippee!
Multi-purpose. Many of the themes on offer are multipurpose, meaning you can use WordPress for everything—from your blog to your landing pages to your homepages.
Drawbacks
You may have to self-host. If you want to customize everything, install plugins, and make it just so, you may need to set up web hosting yourself. If you're less fussy you can use hosted options like WordPress.com (http://wordpress.com/), or their VIP service.
Usually slow. WordPress' strongest feature is also kinda its downfall. Because it's so customizable and easy to use, it's like a bloated seal. It depends on the themes and plugins you have installed, but it can get mighty slow, which could put off readers and the Googlebot.
Ghost

The Ghost platform is like a stripped-back version of WordPress. It's pretty awesome because it's used by companies like Square and NASA. It's very developer friendly and you've got two options to choose from:
Install and host it yourself
Go with a fully hosted paid option
We use Ghost for the Contentacle Blog, and we decided to go for a hosted plan from the Ghost Foundation.
It's so much easier for us because we don't have to worry about it—they do all the updates and maintenance. Whichever option you go for, here's some of the benefits and drawbacks:
Benefits
Actively developed. Because the software's pretty new and open-source, it's very well maintained by a community of developers that really care about its future. That's great news for you as a user!
Very customizable. Ghost comes with a default theme named Casper. You can customize it to your hearts content using HTML, Javascript, and CSS. You can also build your own from scratch without too much work.
Simple, clean and easy to use. Unlike the other options, the Ghost platform is super simple and easy to use. There's nothing you don't need, and no bloatware.
Drawbacks
Lack of themes. While there is a theme marketplace, it's sparse compared to the community behind WordPress & Tumblr. The themes cater more towards professional bloggers, rather than companies, too.
No plugins (but planned). If you like your plugins, Ghost probably isn't for you yet.Plugins are in the making though, so watch this space.
Blogger

Blogger's been around since 1999—that's quite impressive. It was acquired a while back by Google, and you're unable to host the blog yourself.
Benefits
Use your Google account. Blogger is by far the easiest option when it comes to hosting your blog. All you need is a Google account, and you're set up. You can get started right away.
Easy & free. Blogger's free, and you can even link up your own domain without paying. The beauty of Blogger is that it's so easy to use—it's all done for you.
Drawbacks
It's not very pretty out-of-the-box. While it's free to host and add a domain, you might want to consider paying for a theme because the default ones are a bit of an eyesore.
It's getting a little old. Seeing as it's been around since '99, the platform's getting a little tired, and so it might not be a good option for the future. There's a ton more modern CMSs that are better maintained.
Tumblr

Tumblr has been around since 2006, and it's a popular way for anyone to start their own blog. Many large startups like Slack and Disqus use the platform for their blogs.
Benefits
Free & easy to set up. Tumblr is super simple and it takes seconds to set up. It's easy to understand and there's not much to it.
Loads of themes. Much like WordPress, tumblr has a massive community of theme builders behind it.
More chance of being discovered. Because the network is all about others seeing your posts, you're more likely to get people in front of your content. You can 're-blog' other people's posts, too.
Drawbacks
Long content doesn't perform well. If you're looking to publish a 1,000+ word article on tumblr and get a lot of love for it, I'm afraid you won't have much luck. Tumblr is about images, short content and quick scrolling (and also cats. Lots of cats).
It's a little busy. When you log into your tumblr dashboard, you'll find loads of posts by loads of different people. It makes it a little confusing at times, and can detract from the real reason you're there: to write. And don't even get me started on the suggested accounts. 🙈
Medium

Medium is a place to share stories with others.
Founded in 2012 by Twitter co-founder Evan Williams (who also happened to found Blogger), it's a popular choice for startups and small businesses to write and syndicate content on.
Benefits
Great for expanding a post's reach. One of the fantastic things about Medium is that it acts like a social network. It helps spread stories across the web by having awesome SEO and emailing people who might care about your article. Their discovery algorithms are pretty neat too.
Easy to use, nothing to install. There's one step to setting up a Medium account—logging in with Twitter. That's it. Once you've done that, you're in, and you can start writing, publishing, and recommending.
Always looks amazing. Because Medium is in charge of the design of your blog, your content always looks the best it can be. There's no theme options, and it's always easy to read.
Drawbacks
Absolutely no customization. What's great about Medium is also awful. Sometimes it'd be nice to add in some HTML or change the color, or use Google Analytics, but you can't do that on Medium.
You're in someone else's playground. By writing and publishing your content in Medium, you don't build up your own site's SEO. That means your homepage won't get as much traffic.
Find the Best One for You & Your Team
There's a ton of options when it comes to hosting your blog. You just have to find one that suits you and your team!
Don't forget, you can use more than one if you want to. We have our own blog and then slowly syndicate the content to Medium with our publication Startup Content Marketing Tips.
We support publishing to all these platforms from right inside Contentacle. So even if you pick one and turn out to despise it, you can switch in seconds. Pretty neat, huh?
Have any preferences, or top tips for other readers when it comes to hosting their company blog? Let everyone know in the comments!