Contentacle Monthly Blog Report: December 2015
January 10, 2016
Open
Every month we publish the progress we've made in our own content marketing efforts. We're open about what went well and what didn't go so well so that hopefully you can learn from us.
What the team has been up to this month
December has been a busy time of year for us, despite the Christmas holidays. When we weren't stuffing our faces with Christmas turkey, we were crafting content and pushing product updates.
We also had an early present arrive on Christmas Eve—we were featured on Product Hunt! 🎁

We've had a total of 115 upvotes so far—much higher than we were expecting. If you voted for us, thank you!
While we weren't expecting to be hunted, we dealt with the influx of visitors by spinning up a dyno (thanks, ​Heroku) and spending the evening talking to a ton of interesting people.
You may have noticed we just overhauled our website. Drop us an email and let us know what you think!
In other exciting news, we flew all the way from London (our base) to Montréal. We're enjoying the city despite it being -20C◦ the other day and we've already met some great people and stuffed ourselves with more awesome food (mostly pastries).
How did our content do?
This month the amount of sessions, page views and users on our blog has increased. Being featured on Product Hunt obviously had a big impact.
The number of pages per session and the average session duration in which people stayed decreased. Perhaps people that took a look from Product Hunt were a little less patient.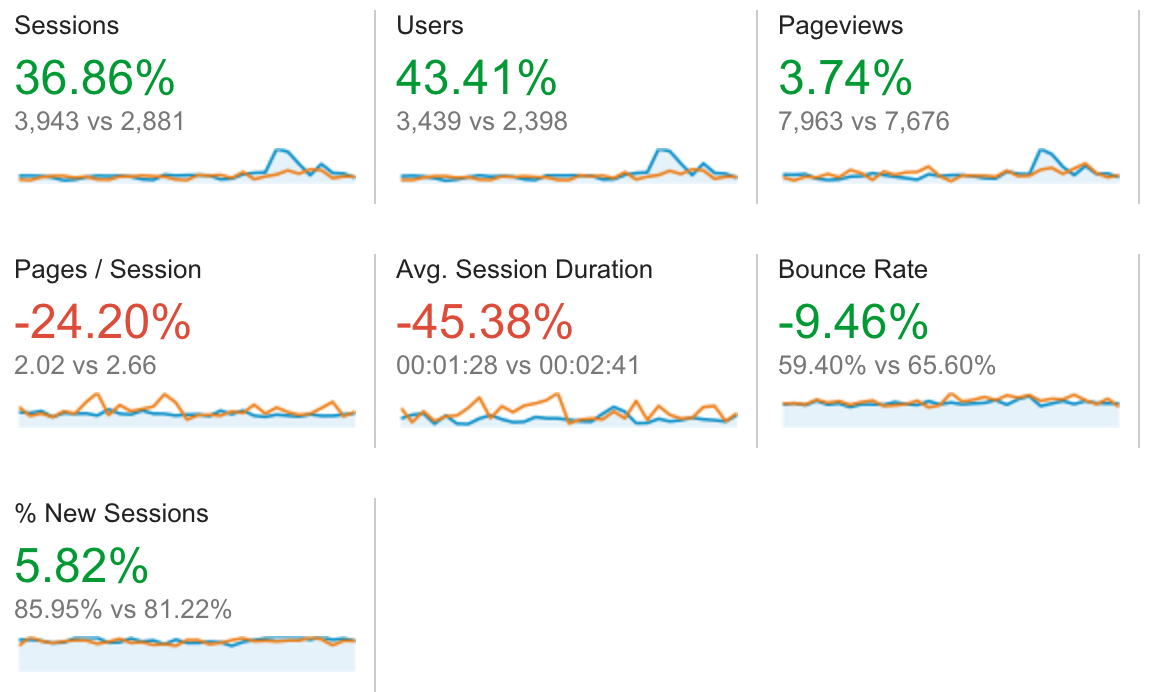 This month we decided to reduce the number of posts from a week from two to one. We wanted to make the article we do publish even better, and spending more time researching the topic seems sensible.
Here's a rundown on the content we published this month in order of publish date:
Social Media Strategy Revealed: Sharing Weeks of Tweets in 10 Minutes
Page views: 27
Average time reading: 3 minutes 2 seconds
Average read: 4%
---
6 Things We've Learned Scaling Our Content Marketing
Page views: 46
Average time reading: 2 minutes 43 seconds
Average read: 61%
---
6 Ways to Create a Captivating Company Blog
Page views: 171
Average time reading: 4 minutes 8 seconds
Average read: 39%
---
The Startup's Guide to Content Marketing
Page views: 85
Average time reading: 4 minutes 11 seconds
Average read: 51%
---
Contentacle Monthly Blog Report: November 2015
Page views: 26
Average time reading: 2 minutes 48 seconds
Average read: 52%
---
We received a total of 7,963 page views (3,412 unique) and 14.8% of the readers were returning, which is down 4.4% from last month.
What went well
Our blog post about how to create a captivating company blog received a lot of shares. I submitted the article to Quuu, a service that helps people automatically share content to social media.
They now offer a paid service, where you can get your article shared by thousands of people. It may be an option for us in the future.
What went badly
The Startup's guide to content marketing didn't perform as I hoped it would. I think it's partly because of the lack of promotion, and partly due to the lack of actionable content. I need to work on improving it. I think eventually I need to make it into a proper guide on the website.
What to do next month
While I wanted to post more psychological based articles last month, I didn't. I need to make sure I gather up enough research during the week so that I have at hand when I start writing.
This month I'm aiming to make the content I write shorter, but much more actionable and interesting. I've found I use far too many words when I don't need to.
---
If you have any feedback or suggestions on how you think our content can improve, leave a comment or shoot me an email. We're always keen to make our blog more valuable.