How to Use Editorial Workflows for Better Content
You've been writing your article for a little over a week now. You just want it published. You've had enough of looking at it.
I know that feeling. Content planning sucks.
You just don't wanna look at it anymore. It's wearing you down. As tempting as it may be, you shouldn't hit publish. Seriously, don't do it, it's not ready for your readers. It needs editing by someone else.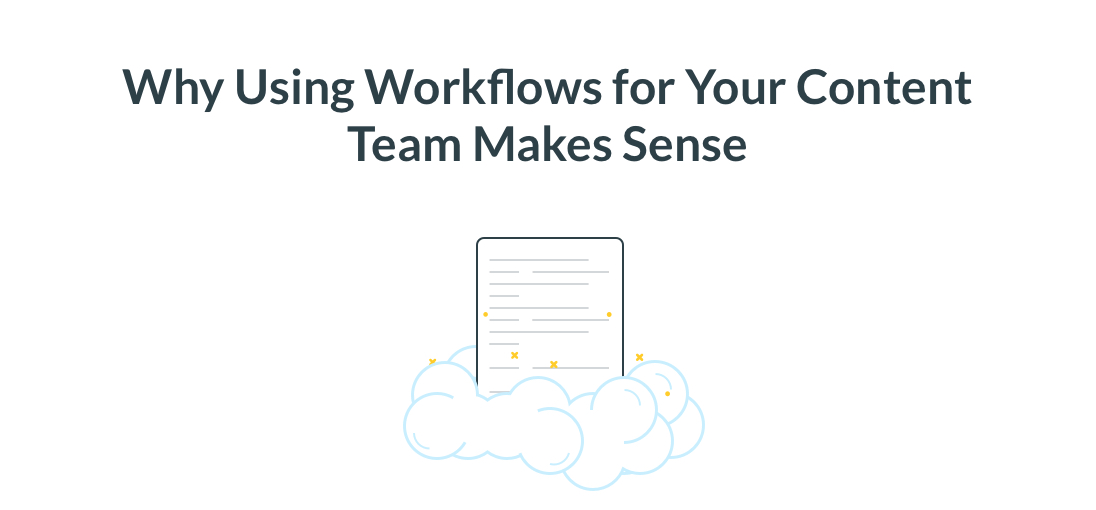 As annoying as it is, you usually don't see your own typos or mistakes. It's not because you're stupid though. There's science to this, ya know.
Turns out we all lie to ourselves. Tom Stafford at the University of Sheffield has been studying typos.
In his research, Tom found our brains tend to generalize and swap out words. We switch words that aren't right and replace them with those we'd expect to be there. Weird, right?
The 'psychology' you meant to write? Yeah, you spelled it 'pssychology'. Oops!

The reason we don't see our own typos is because what we see on the screen is competing with the version that exists in our heads

Tom Stafford, University of Sheffield
If your article does manage to creep its way past the editing process, your readers are likely to pick up on the mistake. It's because they're reading it for the first time.
They don't know about the idea you're trying to portray yet, and they're not the ones that've been writing it all week.
Work as a Team When Crafting Content
Writing in a startup team is no easy feat. Your teammates are super busy, and you don't want to distract them.
But getting their input could take your mediocre piece of writing and turn it into a masterpiece. In the long run, this means more leads for your business. It's a big deal.
Sure, to begin with it's tough for someone to sit there and rip your work to shreds. It sucks, but you get used it. You need to get used to it. You'll become a better writer because of it—I know I have.
A strong editorial team can help fine-tune your company's voice and actuate your communication goals

Molly Dee Anderson, Yesler
If your startup is going to succeed with content marketing, you'll need to be ruthless. You can only publish the best version of your writing. Any less, and people won't come back to read more.
Having a community of people coming back for more is super important. Don't let your ego take center stage, ok?
Use a Workflow for Better Content Ideas
By using the power of a workflow, it's easier for you and your team to collaborate. Having an 'ideas' stage at the start of the workflow means there's less pressure to come up with high-quality suggestions. You and your team know that post may not make it to a draft, and that's ok.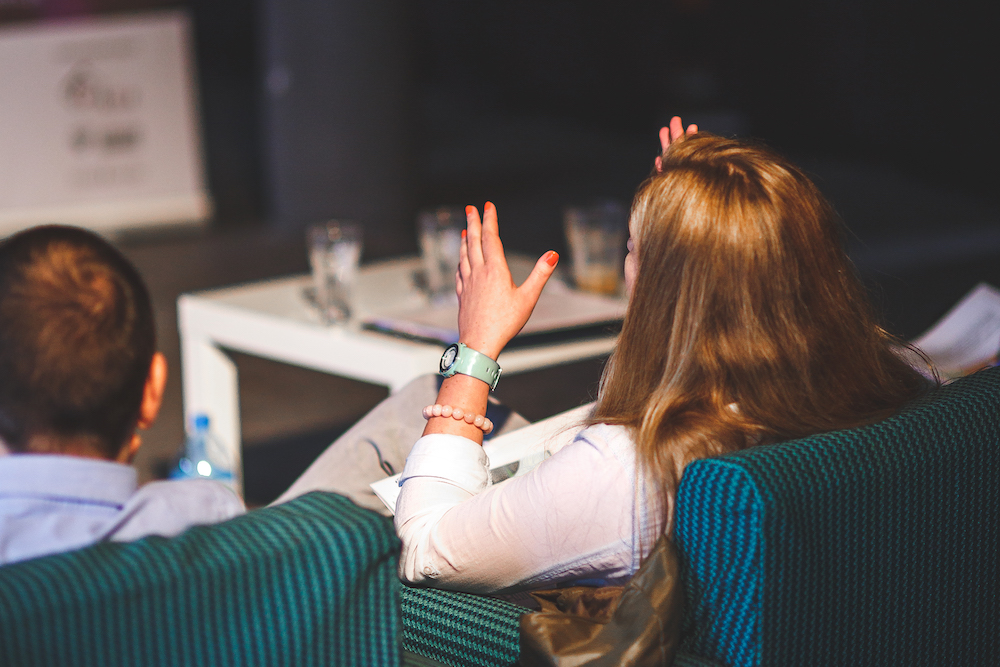 Having everyone contribute ideas makes sense because everybody has their own areas of expertise.
IDEO—a design agency famous for their brainstorming—insists you be sure not to discard anyone's idea. While it may not be polished right now, it could lead to something great further down the line.
You never know where a good idea is going to come from, the key is make [sic] everyone feel like they can say the idea on their mind and allow others to build on it.
We've got over 30 ideas on our Kanban right now and most of them won't ever turn into drafts, but the only reason this post has been published is because I looked through them and picked one out. I didn't feel like writing this piece a month ago, but now I feel it's a good time.
Make sure you have lots of ideas in reserve, too. Without them you'll need to take time out to think up blog topics, and that's time you could be spending actually writing.
Hillary Weiss is a content crafter from Brooklyn. She keeps a swipe file handy so she can keep working even when inspiration is nowhere to be found.
Your swipe file is the perfect resource for those moments when ideas just aren't coming and those moments when that perfect project comes around, when you'll have just the thing tucked away and ready to build on.

Hillary Weiss, Crew
Hillary uses her notes app and a word document to keep all her favorite ideas, quotes, and graphics in one place when content planning. When it's time to get some work done, she can take a look at these swipe files. She can pick bits she thinks may help her make her content go from OK to awesome.
When inspiration doesn't strike, it's good to have options. They help you light the match again.
Keep Your Team Updated
If you're the content manager for your startup, you're busy enough already. It's tough coming up with all the ideas all the time. So it's your job to:
Sort through everyone's ideas
Find the best person to write each post
Follow up with the writer or guest
Get a draft written
Edit the article (or get it edited)
Add in graphics, quotes and/or a video
Publish on schedule
That's a lot of work to get done, so having a team that's there for you is better than one that gets annoyed every time you mention the company blog.
Make your teammates part of the process, and keep them updated at meetings. Keep your blog open to your team contributing. By using workflows, you can make the process easier for everyone involved.
Use the Power of Workflows
Knowing where in the process each piece of content is helps you get a clear overview of your editorial process. Having the ability to set a post status as idea, draft, ready to edit, or ready to publish means you and your team won't get confused.
Here's an overview on the role of each status.
Moving from
Idea

to

Draft

So you have a ton of ideas. You just need to pick the one you're most confident in and then assign it to someone. The great thing about having the ideas section is that you can hand-pick the ones that work for you and your team. There will be subjects you're more confident on, and others not so much.

Before you start writing the introduction, body or conclusion, you should outline the post. An outline, generally, is a ton of bullet points to help you dump your thoughts on the page. Here's mine for this post: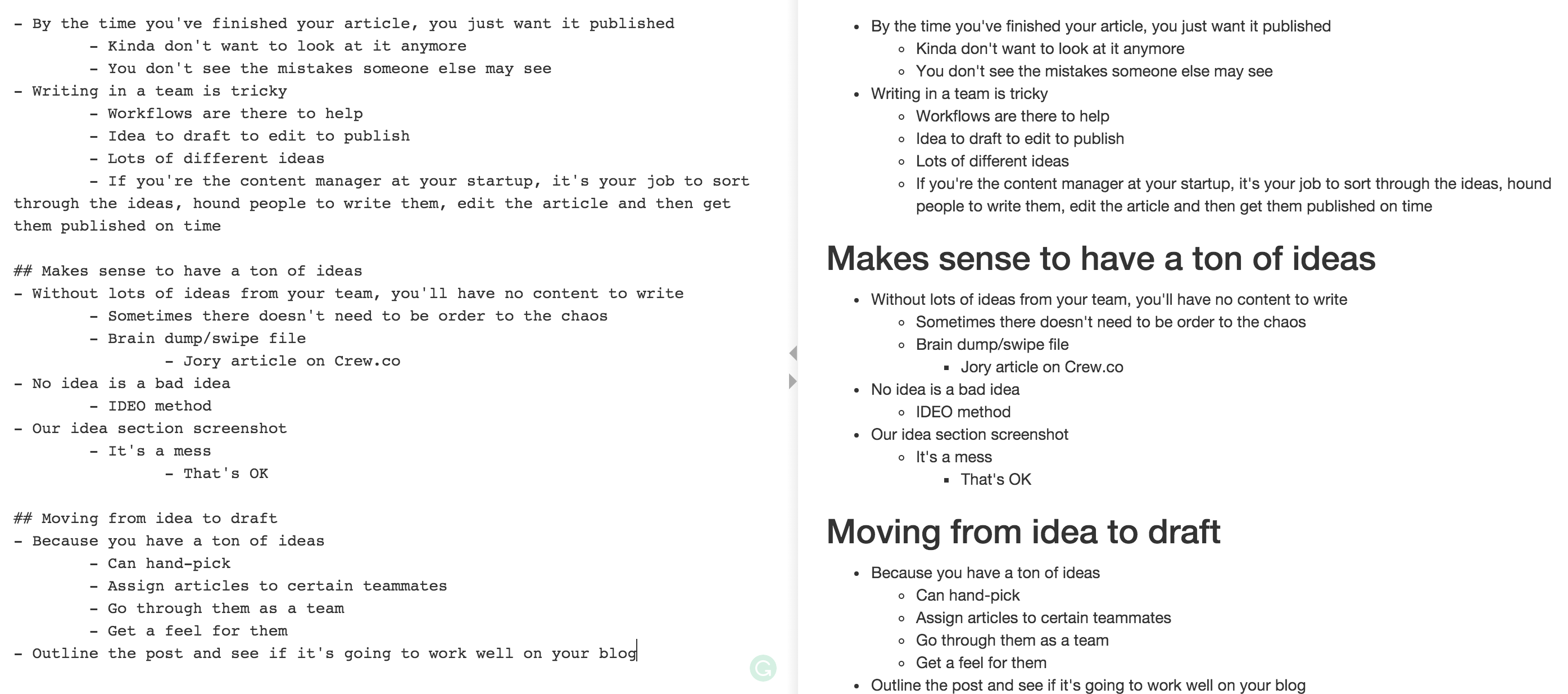 Messy, right? Well, that's kinda the point.
Resist the temptation to prettify it, especially if you're a designer like me. This process is just about getting the barebones of the post down and out of your system.
Once you're sure you've got all your ideas for the post down on the page, email or Slack it (or even use your legs and walk it over) to your teammates. They might be able to shed some extra insight you haven't yet had.
There's another benefit to this. They can also tell you if your idea is the worst thing they've ever heard, and to try a different idea. This way, you don't waste too much time on it.
If you do find it's a waste of time at the moment, move it back to the ideas section. Don't delete it. You might come up with some awesome new content later on.
If it's ok, then move onto the next step: filling it out. John O'Nolan over at Ghost wrote an awesome piece. It's about how to fill out your content from zero to something.
Look at the steps in your outline. Now write 100-200 words for number 1 (introduction), number 5 (conclusion), number 2 (value), then number 4 (case study). Those are the easy parts.

John O'Nolan, Ghost
Basically, start expanding the sections you're most confident on first. It doesn't have to be in order (in John's example he starts with the introduction, but then the conclusion).
Flesh out the article piece by piece. It'll all come together and you can keep adding in paragraphs to help the content flow, until you have your masterpiece.
Ask Yourself: Who's the Best Person for the Job?
If there's someone on your team you think knows more about the subject you're writing on, sometimes it's better to send your outlines to them to write. Before you start writing anything down, you need to ask yourself: Is there someone that knows more about this subject?
If there is, send that person a quick note asking them if they'd be interested in writing the post for you. Attach a rough outline and add a little section at the top about why you think they'd be right for the job.
The customer communication platform Intercom does this fantastically. On their blog Inside Intercom, they have different experts from each area of their company contributing content.
This makes their company blog super interesting, and leads to different discussions and opinions.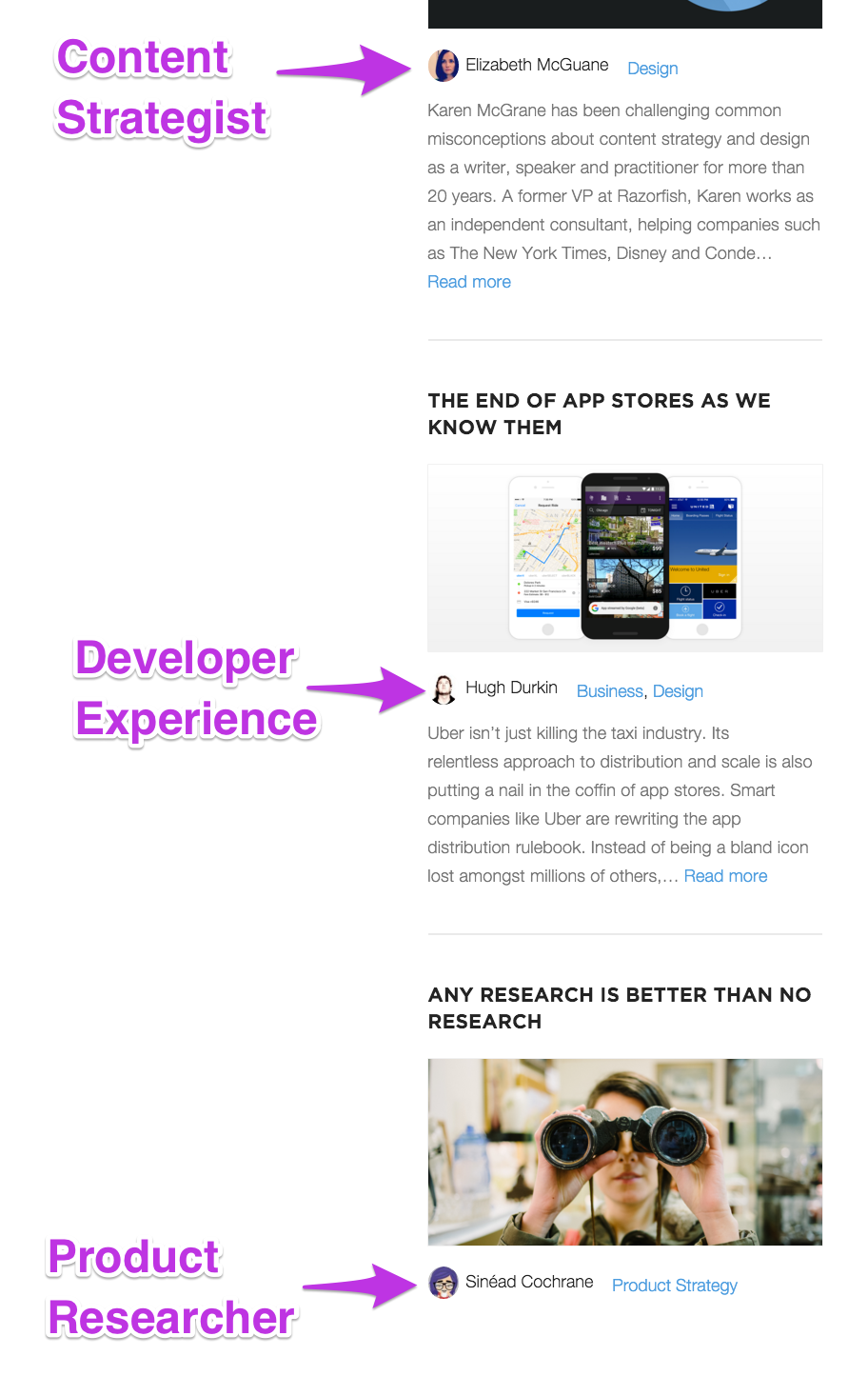 I tend to send my outlines to Jake if I don't think I'm the best person for the job. For instance, I know I'm not great at writing about engineering or leadership. But try getting him to write a post about psychology.
Draft

to

Ready to Edit

So you've finished your first draft, and you've read through it a couple times. The article doesn't need to be perfect, but it does need to be readable.

The most important thing when content planning and shifting from Draft to Ready to Edit is this: your ideas have to come across clearly to the editor. It's no use writing a pointless article. Think about:
What are you trying to say?
Why are you saying it?
What are you trying to get readers to think/do?
You shouldn't have to write an extra note explaining what you're trying to get across. It should be obvious to the editor. If it's not, you shouldn't send it to them right now.
By defining these stages, you know exactly where you stand in terms of progress. It also adds structure for your team to follow thus making the whole process more organized.
Make sure your editor knows they have complete freedom over your work. Don't be discouraged if they add in sentences, chop paragraphs and add in quotes. It'll be worth it once it's published. A set of fresh eyes on your content can work wonders.
If you can, sit with your editor when they go through the process. You'll learn how they work, what they look out for and why. I always go through my work with Jake and it's helped me develop my writing skills.
Turns out I put 'that' in my sentences far too much, so I self-edit and make sure I don't include too many. This makes the process easier for both of us.
If you're the editor and you've edited the work, send a quick note or comment saying what you've changed and why. Ask them to have a quick read through and let you know when it's A-ok to publish.
Ready to Edit

to

Ready to Publish

Almost done! You're nearly there. I'm sure you can see the power of workflows by now, and why they're so useful in the team content marketing process.

When you've moved the content from Ready to Edit to Ready to Publish you need to make sure:
All graphics have been created and uploaded
You've edited the work
You've inserted some extra research
Included a few influencer quotes for outreach
If you've done all that, the article is ready to be published! Set a date in your content calendar and get started on your next article!
Freebie
: Wanna get started right away?
Grab our
free content marketing spreadsheet planner with workflows included.
Next Steps
Wow, we sure covered a ton of stuff. Here's what you should do next:
Start planning ideas. Use the spreadsheet or Contentacle to start planning your posts. Get your team in a huddle and think up some interesting ideas. 🐧 Remember: Don't discard anyone's idea. It could come in handy later on!

Outline your posts. Start outlining your posts instead of writing them from scratch. Ask for your team's opinions and think about whether someone in your team (or a connection) knows more about the subject than you.

Get your work edited. Don't edit your own work, get someone else to do it for you. Ideally, you'll have an editor, but if you don't then ask someone on your team with great writing skills.

Set a schedule. When you're creating valuable content, you need to do it consistently. Create a schedule you and your team can follow.
---
For a weekly digest on all things on content marketing, writing and productivity, subscribe to our weekly newsletter. Have your own techniques or comments? Have your say in the comments below.