Introducing Our Content Marketing Kanban View
January 18, 2016
Product
Sometimes it's a real pain to get useful insight into what's happening with your blog content.
What needs to be edited? How many ideas have we got lined up? What's ready to be published and read by my readers?
These are all inbound marketing problems, and they're all pretty difficult questions to answer when you're just looking at a list of posts in a spreadsheet, right?
Worry no more. We've been beavering away on an improved, smarter way to view your posts and your content progress. Introducing our brand new drag-and-drop content marketing kanban view.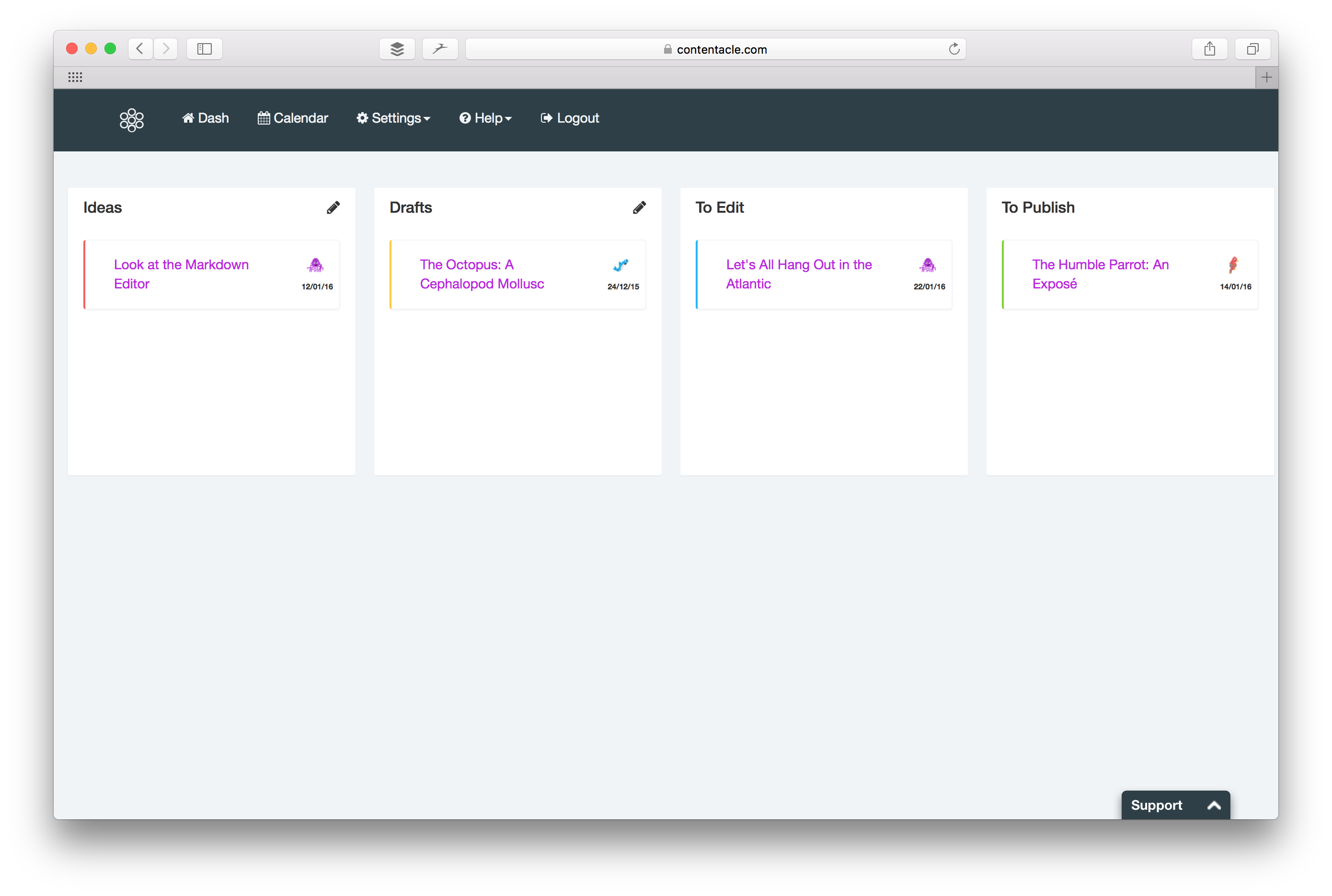 Our new and improved way of viewing your content at a glance
Think of our content marketing kanban view as Trello, but built specifically for you as a content marketing team. Now you see what's to be drafted, edited and published to your company blog at a glance.
Our content marketing kanban makes it super easy to see what's going on with your content, and what your content team are up to.

Instead of a table with a queue of posts, all your team now have access to this awesome drag-and-drop editorial content view right on their dashboard. Just log in and take a look!
We hope you love our brand new kanban view 🍾
Other updates we've pushed
You may have also noticed we've pushed our some other, smaller updates. Here's a list of what we've improved.
Refreshed dashboard design
We've changed the navigation bar color and removed the second bar for a less busy interface. This makes it easier for you to focus on your writing.
In the calendar view we've gone ahead and removed the ideas panel to make things simpler.
New integrations view
Instead of a table, all our blogging and messaging integrations now have their own cards. It's easier than ever to integrate with your favorite platforms and quickly edit your settings. You may have noticed we've added Slack as integration, so if your team is on Slack go ahead and connect it up for seamless post notifications.
More integration options
When you hit Publish, you can now choose whether your post will get sent off as a draft or as a live post. That's a per-integration option you'll see on the integration's card.
---
We really hope you enjoy using our brand new kanban view for content marketing teams. If you have any feedback, feel free to get in touch.