Social Media Strategy Revealed: Sharing Weeks of Tweets in 10 Minutes
Back in 2009 (many years ago) in my youth I loved to share my opinion on the internet—maybe a little too much.
When I was 16, I discovered a new social network and I loved it instantly. It let me moan about my teenage woes. If you haven't guessed it already, this social network was Twitter.

Fast forward six years and Twitter is a whole different story.
After hardly using it during college, I found myself on the social network once again after I delved into the world of startups. I also no longer moan, thankfully.
Instead of using it to moan, I use it to connect with people around the world and share content from the web. It's a truly amazing tool if used properly. I love it.
For many startups like Contentacle, it's become the go-to social network. I even ditched Facebook in favor of Twitter and I've found it useful for promoting various startup articles. You'll need a social media strategy though.
I'm going to show you how to promote your posts on Twitter without spending hours toiling away. Startups don't have much time to spare and having a social media strategy in place can make a huge difference.
Before I give our social media strategy away, let's take a look at what's changed since I joined Twitter all those years ago.
Less sharing, more selling
While the ticking timeline and the 140-character limit is still in place (for now, anyway), Twitter has changed so much since I joined in 2009.
The sad truth is that more people are using the platform for promoting their businesses, rather than sending out personal comments. The amount of auto-DM's I get from people wanting me to download their amazing free eBook has risen for sure.
Another thing has changed—there are now hundreds of businesses that rely on the social network because they built on top of it. Think Buffer, Edgar and SproutSocial. If something changes, they have to deal with the consequences—it's someone else's playground.
I really miss the Twitter share count> Sharing to Twitter declines 11% https://t.co/TOojojdDec pic.twitter.com/tRftQjlBVe

— Emma McHale (@EmmaMcHal) December 17, 2015
When the network removed the ability for companies to access the share count, people were not happy. Many services relied on being able to access the share counts and now they're no longer able to show them.
Show rather than tell
You'd be surprised how many more people engage with a tweet if it has an image attached.
Buffer found that the power of an image is so powerful on Twitter that a tweet with an image attached was 150% more likely to be retweeted.
Buffer found that tweets with images performed better than those without.
Buffer found that tweets with an image received 150% more retweets than if it didn't have one at all. That's an mighty difference, and it's something we'll think about when I show you how to get promoting your content for maximum engagement.
People are becoming more and more visual. The rise of social networks like Vine and Instagram just show you that people prefer to consume visual forms of media. People are having less time to read.
Plan for variety
There are a ton of different ways to tweet—images, quotes, retweets and more. To make the process easier when it comes to promoting our posts, we created a spreadsheet to help us out. It lists the type of posts we want to schedule and when we want to send them out.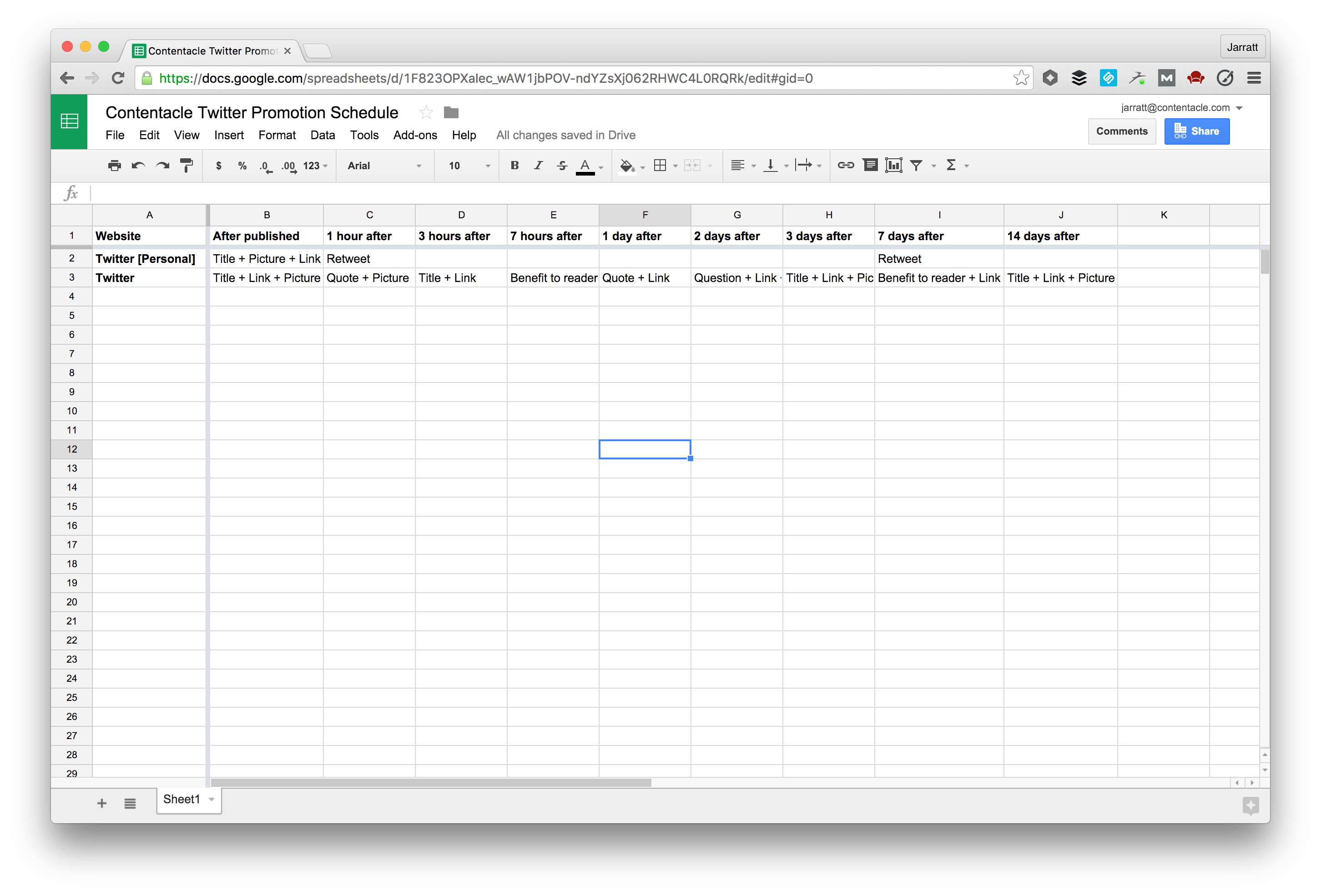 Our social media strategy for Twitter. Click here to download it for yourself.
Being able to refer to a schedule makes the process so much easier because you and your team will know what to post and when to post tweets.
When I want to promote our posts, I take a look at the spreadsheet and go through the list.
Use tools to help you get noticed
Now that you've got your social media strategy in place, you need to be efficient.
Unless you spend too much on staff, you can't possibly schedule your tweets manually, it's too time consuming. You (or your employee) would need to be on Twitter at exactly the right time and spend all day crafting the perfect 140 character punchline.
At Contentacle we love tools that make our lives easier. Why waste time staring at Twitter when we could be crafting an amazing product?
Buffer

When using Buffer their power scheduler is our go-to tool when promoting posts. It allows us to schedule up to 2 weeks of tweets of tweets without much effort on our part.
Here's how we do it in the least time possible:
1. Create a sharable image in your post and click 'Share Image'
We have a featured image at the top of all our posts. Admittedly this isn't on purpose—it's Ghost's default theme which we haven't got around to changing much yet.
When we were trying to share our posts with Buffer, we wanted to include the featured image. Unluckily for us, we couldn't because the Buffer extension can't find it to attach the image to a tweet.
To allow us and other's to share the image along with the article we decided to include the same image again in the introduction.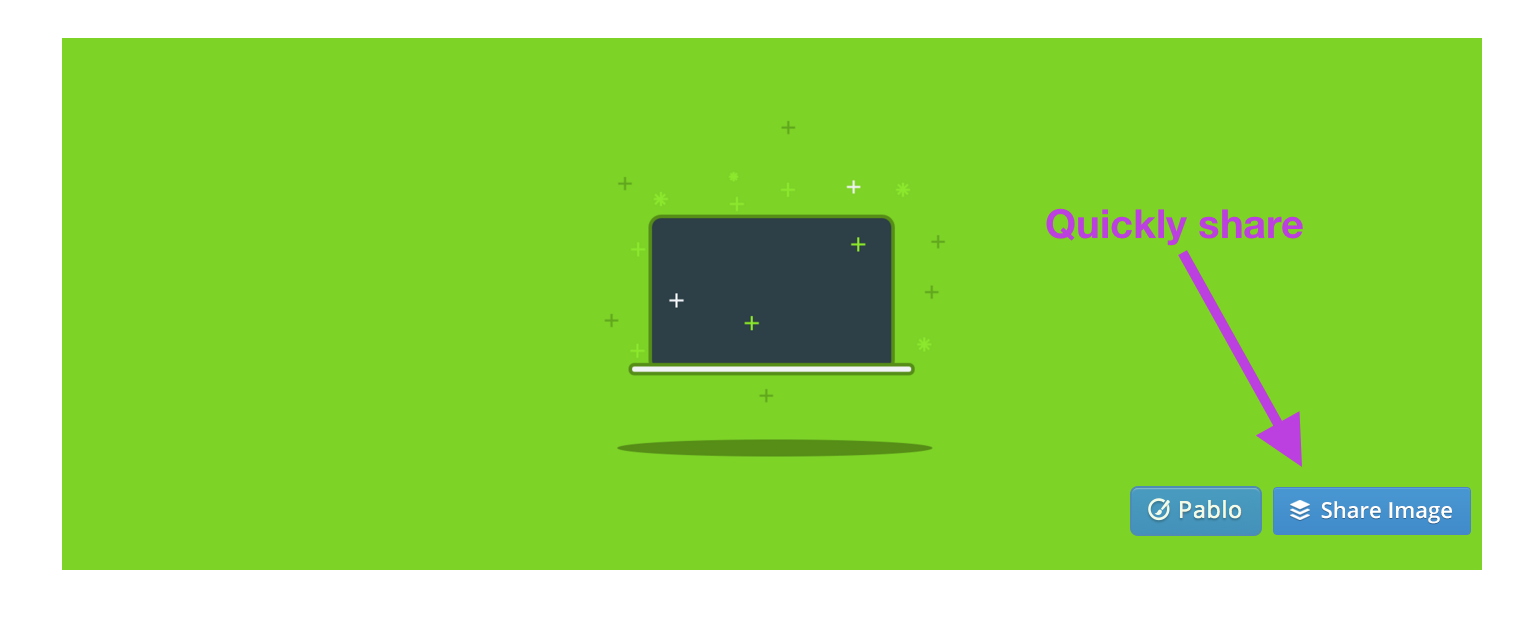 The Buffer extension allows you to hover over an image and share it directly to Twitter. It makes the process so much quicker.
2. Use the power scheduler
You could queue up a ton of posts individually, but that takes time and there's not much of that going around, eh? You could be doing anything else with your life.
Instead, use the power of the power scheduler.
Before clicking on share image, open up another tab with the article again. This will help you to copy and paste quotes later on.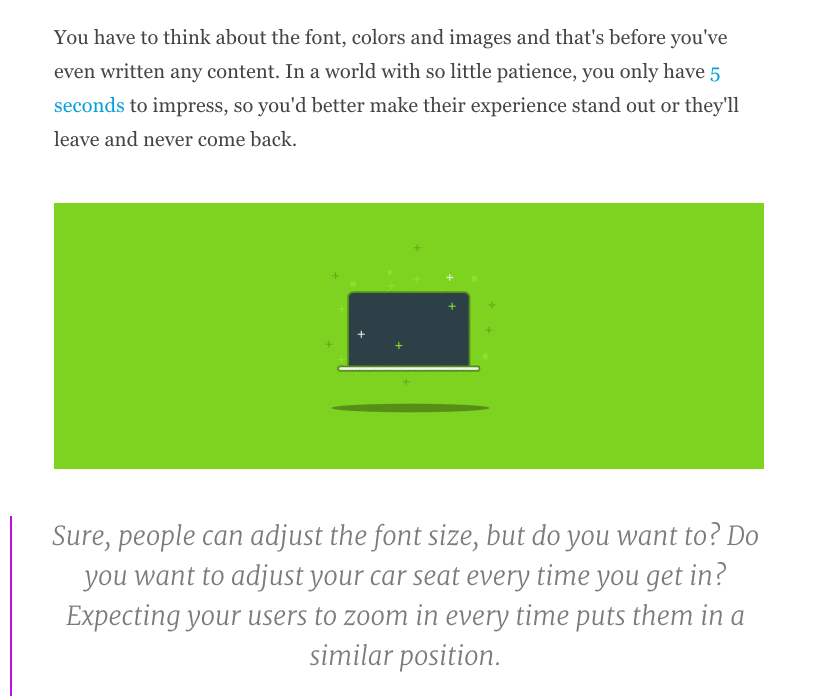 Once you've got 2 tabs with the same article, click 'share image'. A Buffer modal will pop up.
By default you'll end up on the Simple Composer. We don't want that—it's not as awesome. Click the tab that says 'Power Scheduler'. BAM. Awesomeness unlocked.
Here you'll have the chance to share to your social networks. We tend to have Twitter and Google+ available.
Next it's time to look at your spreadsheet. You'll need to refer to it in a minute. I usually split the screen into two for this (thanks El Capitan!).
You can alter the post schedule by clicking on the times with a clock icon next to it. You can also add up to 5 new times on the scheduler if you want to go all in like us.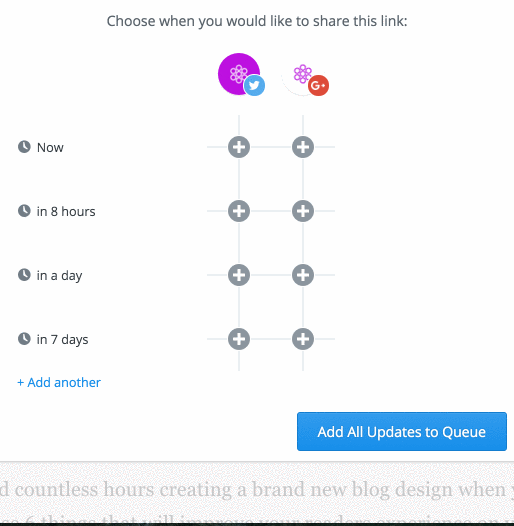 Adding tweets may take 10 minutes, but it's much quicker than doing it individually.
Once you've got all the tweets queued from your spreadsheet, hit 'Add All Updates to Queue' and they'll be send off to be posted when you want, easy.
There are of course alternatives, but seeing as we don't use them they won't be as in-depth. Here's some other options:
Hootsuite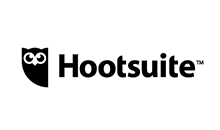 Hootsuite is another popular option when it comes to sharing to social media. We don't it ourselves, but they also offer an auto-scheduler as well as a bulk-message composer.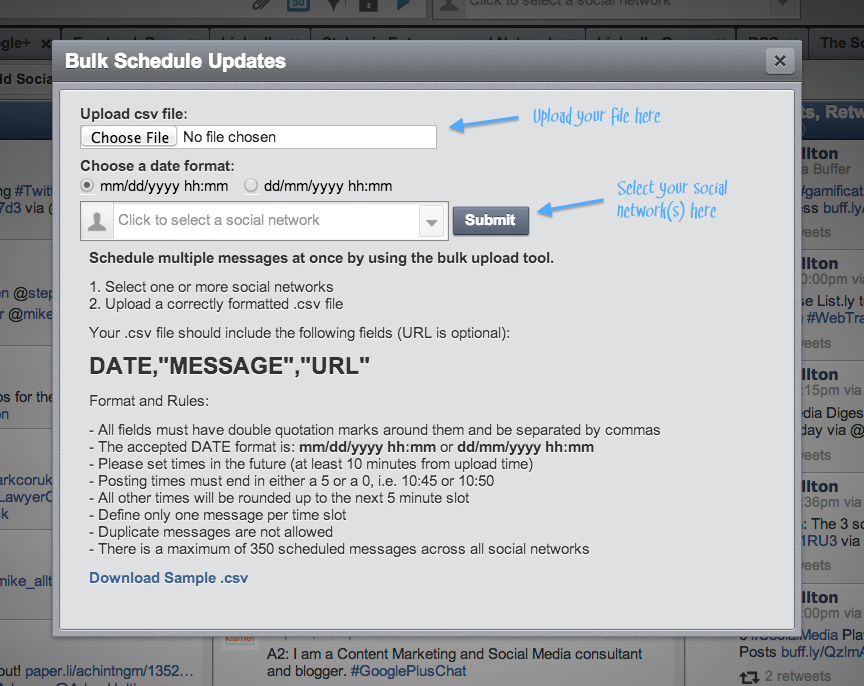 The Hootsuite bulk-message scheduler (via Hootsuite).
Trouble is the bulk-message composer is a Pro feature so you'll need to pay to unlock that feature. You also need to create a .csv file to add them to the uploader.
SproutSocial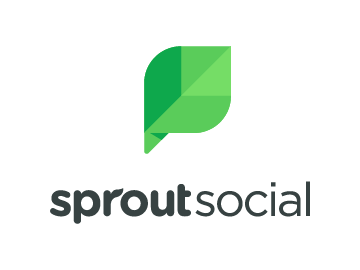 SproutSocial is a CRM-like social media management tool for companies. You give the tool access to your Twitter account and it'll spit out statistics, contact history and help you to discover relevant tweets from around the world.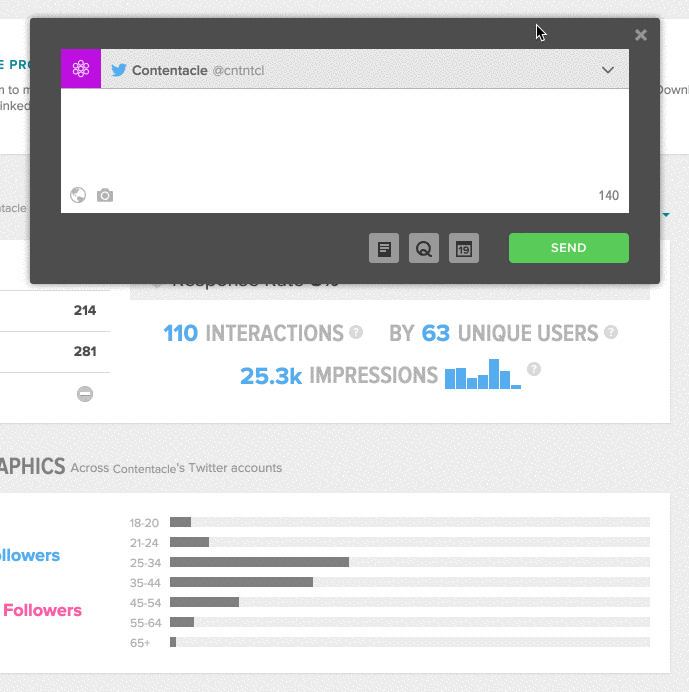 SproutSocial lets you queue or schedule tweets. Just hit 'Compose' in top right hand corner and a modal will pop up. Hit the calendar icon and choose them to schedule the tweet.
Recap
Twitter has changed. It no longer about tweeting about your morning cuppa—it's about selling your product.
Use tools to help you out. If I didn't use tools to streamline the process, I'd lose out on a ton of time. Make sure you speed up your process to fit you, not the other way around.
Sharing social posts can be super time-consuming, but we think it's worth it. By using tools and cutting down the time it takes, you can share posts without spending all morning on it.
Out of all our traffic, an all-mighty 12.8% comes from social media. By using images and sharing more often with more variety, we can drive clicks and visitors to our blog.