4 Steps to Supercharging Your Content Marketing Strategy
If you're the one in charge of your company blog you'll likely know it's no easy feat knowing what to post and how often.
Taking a look at your content marketing strategy every few months is an important step for any content team. If you're not switching things up regularly you're gonna get bored and burn out. Nobody wants drivel—particularly your loyal readers.

We all know that content marketing takes time, though, so just how often should you post, what topics should you write about and how do you split up your blog into categories?
This month I decided to take a look at our own content marketing strategy. Instead of writing monthly topics and then writing some blog headlines I took a very different approach.
Finding inspiration from elsewhere
Don't get me wrong—writing topics for each month and then coming up with some example blog headlines can work really well. It's the reason I included the method in our recently released content marketing course.
As we're a content marketing company I thought it was time to try something new. I looked towards the startup blogs I read myself and took inspiration from them.
I took a look at 4 things when I analyzed each blog:
what categories/topics they used
how often they posted
what they included in their posts (e.g. psychology, data etc.)
how many words they used (minimum and maximum)
By analyzing other blogs I could work out what they were doing right and how it could benefit our blog too.
Here're the steps I took in finding our new content marketing strategy by looking towards other successful startup blogs.
Step 1: Go on the lookout for similar blogs
A good place to start overhauling your content marketing strategy is to look at blogs you read and aspire. If you're an avid reader they're obviously doing something right, especially if they're in the same industry.
Let's say you're a startup that creates jaw-dropping company videos quicker and cheaper than many of your competitors.
To start creating your new content marketing strategy, you might like to take a look at Wistia's Blog. They create video tutorials on how to create, edit and publish videos the right way.

Start researching blogs that are in your industry, have a good readership and create the kind of content you'd like to produce. Create a list of around 10 other blogs in your note app. It doesn't need to be neat right now.
Step 2: Analyze their strategy & schedule
Now that you've got a list of blogs that are similar to what you're trying to achieve, it's time to analyze them. The great thing about company blogs is that it's easy to find the information you need. You can find the post date, author, length, and topic very easily.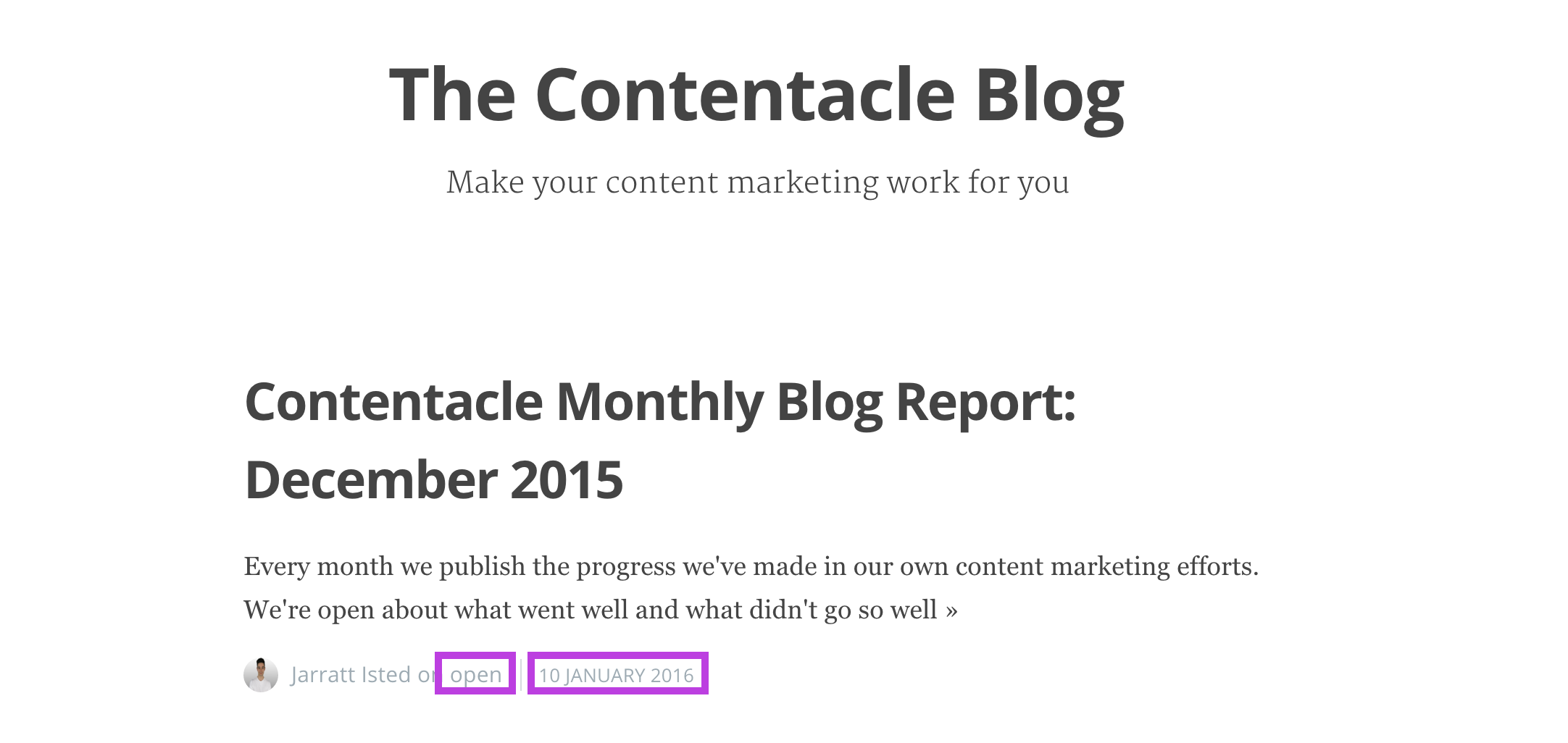 Take a look at your list and find out their industry, the main topics on their blog (you'll usually find these as keywords or categories), the typical word length (minimum and maximum) and the types of things they include in their content.
Step 3: Sort it out with a spreadsheet
To make understanding the information a little easier for you, I've created a free content marketing planning spreadsheet you can use to make it quicker. Just fill in the blanks and you'll have a list in no time.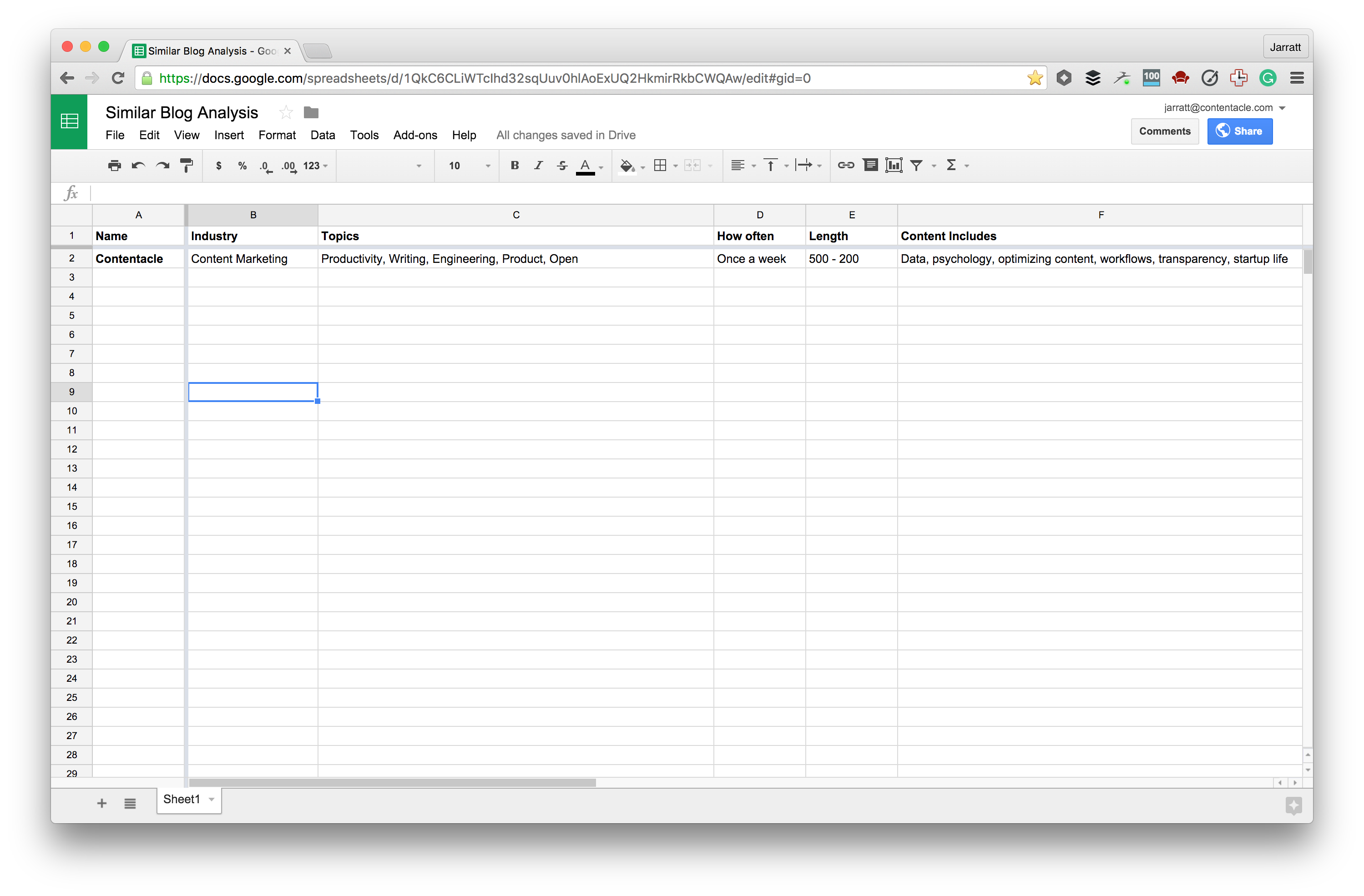 I used the same structure. My main aim for the new content marketing strategy was to adjust our blog to appeal more to startups.
Here's what I ended up with: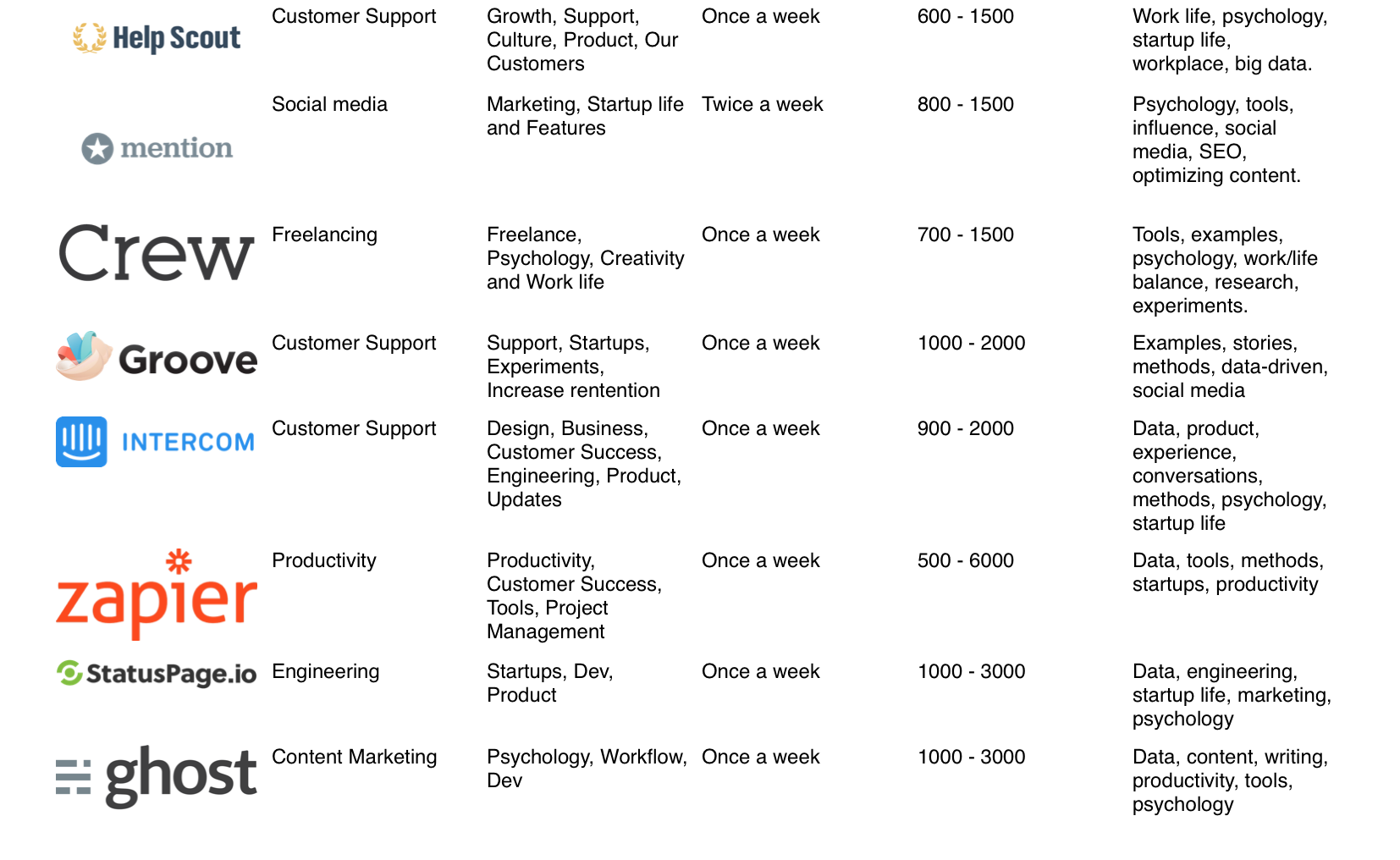 Based on our analysis of other startup blogs, we separated our content out into 5 new categories: Productivity, Writing, Engineering, Product and Open. We chose these because we're interested in these areas, but they also perform well on the other blogs we mentioned.
We're also sticking to posting once a week. Most startup blogs we looked at posted around once a week (the exception being Mention) and we think that's a good choice. It means we can provide our email list something to read and we can spend the time making our posts ultra awesome.
Step 4: Split your blog up into categories
Think about splitting your own company blog up into categories—it helps focus your writing and think about what your target audience wants to read. When a visitor arrives on your blog, you could show them the categories to help them understand what your content is all about. This can be seen on blogs like Mention.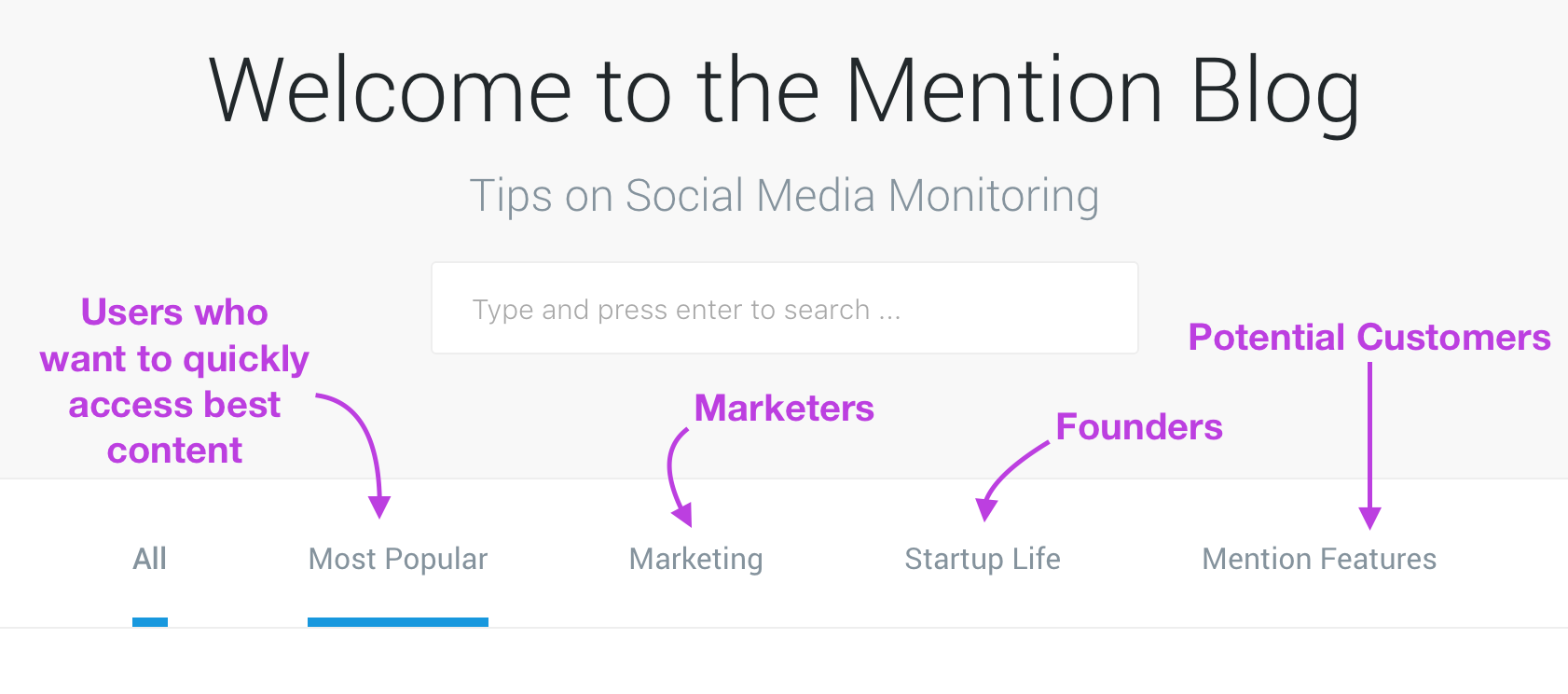 In case you don't want to create your own spreadsheet, here's a template for deciding your blog topics.
If you've thought up some categories for your blog, you might like to assign different members of your team to each category, or, at least, let them know it's there if they want to write a piece.
For instance, I'm not an engineer at heart and so I'd be useless at writing a development piece for the engineering category. However, I know that Jake is a great developer and has a background in engineering, so I've let him know that the category is there if he wants to share his thoughts/process.
---
Next steps
Find inspiration for your company blog strategy. If you're anything like me, you spend far too much time reading great blog posts from a selection of inspiring companies. Create a list of these to use later.
Analyze what they're all about. With your list at hand, drill down and understand how they produce their content. How many words do they usually write, what topics do they write about and how often?
Create categories for easy reading. You can give your visitors a helping hand by showing them what your blog is all about. Split your content up into categories and think about how each of your team members can contribute.
I hope my method can help you and your team figure out what you want to write about. Creating content shouldn't be a chore—you should be excited about sharing your processes, tools and thoughts. Sometimes a review into your content marketing strategy can inject some passion back into the task.
Good luck, and let me know how it goes for you in the comments!